Phil Jackson Bitter After Not Getting New York Knicks Coaching Position?
June 17, 2012

Kevork Djansezian/Getty Images
Phil Jackson has finally shown himself after a season full of speculation as to where the Zen Master might coach next. The New York Knicks were one team thought to be in the running, but after extending current coach Mike Woodson's contract, Jackson won't be returning to the same place he once played.
The Zen Master sat down for an interview with HBO's "Real Sports," according to the Associated Press, per Yahoo! Sports. Jackson was quite candid on his feelings towards the Knicks.
"Jackson calls the Knicks' roster 'clumsy' because their players 'don't fit well together.'"
"Amare Stoudemire needs 'to play in a certain system and a way,' he said. 'Carmelo (Anthony) has to be a better passer. The ball can't stop every time it hits his hands.'"
While Jackson isn't wrong with anything he said, it does seem he's brutally honest for the Knicks, but not so much for the Orlando Magic in this interview.
"Jackson says he wasn't interested in Orlando because it's too far from his Montana home."
That's it? I'm sure it had nothing to do with the utter mess that organization is in and the fact that their best player, Dwight Howard, is about as ready to fly the coop as a caged bird.
Is someone bitter?
The same report also spelled out how the Knicks never even offered one of the greatest coaches in NBA history their open position. Instead, New York, and James Dolan's sly self, decided to stick with Woodson, who led the team to an 18-6 finish to the regular season.
"In an interview scheduled to air Tuesday night, Jackson confirms that New York, where he started his playing career, didn't contact him before removing the interim tag from Mike Woodson's title, but 'I wasn't going to take the job, that's for sure.'"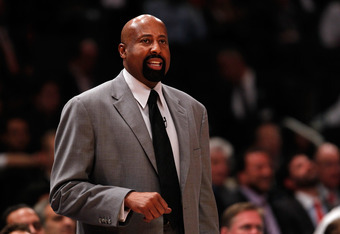 Jeff Zelevansky/Getty Images
While I can only speculate, this has to be one of the first times since the Zen Master has been considered one of the great coaches that he was passed over for an open coaching position.
Either that or Dolan's omniscience concluded Jackson didn't want the job without even calling.
Say what you want about Jackson's out-and-out denial he even wanted the job at MSG, would he really tell you he wanted it and might have been passed up? Of course not.
What's more interesting to me is that when asked if he thought he could turn New York's situation around, Jackson thought he could but was quite short with his answer.
"Asked whether that's the sort of situation he's successfully turned around in the past, Jackson says: 'Yeah. Well, it didn't happen.'"
So despite thinking he could fix the Knicks' situation, whether it be Carmelo Anthony's isolation or Amar'e Stoudemire's system issues, Jackson didn't have a desire to coach a talented team in New York because of clumsiness?
Or is the Zen Master's negative comments a reaction to his old team never even inquiring about his services? Maybe the Knicks were the best available job for Jackson at the moment and now that they moved on, he has no team left that is viable enough to win a title with.
We won't know for sure as both sides will remain forever diplomatic in their respective approaches to addressing such an interesting subject like Jackson coaching the Knicks.
But the Zen Master's latest interview will most likely be the best chance we get to know what really happened, no matter how you interpret it.