Chicago Blackhawks: How Alexander Salak Went from Hot Prospect to Waiver Wire
June 16, 2012

Justin K. Aller/Getty Images
Alexander Salak was coming to America with great expectations, both on his part and the Chicago Blackhawks. Just over a year later, Salak's days as a prospect in the organization appear to be over.
The 'Hawks' waiving of Salak, according to thehockeynews.com, brings a disappointing end to Salak's chances of manning the net in Chicago. I can't say it's a surprise due to what transpired over the last 12 months, but the decision to sign Salak to back up Corey Crawford was definitely a swing and a miss by Blackhawks GM Stan Bowman.
Salak got a two-year, $1.25 million deal to cross the Atlantic and play for the 'Hawks. It is apparent that Salak was given assurances that he would have the inside track to the backup job.
Salak was coming to Chicago after being a part of the trade with Florida that sent Jack Skille to the Panthers and Salak and Michael Frolik to the Blackhawks. He was coming off a season in the Swedish Elite League that saw him record seven shutouts and a 1.97 goals-against average.
Crawford and Salak were signed within one day of each other. By this time last year, it looked like Bowman had taken care of the crease for the immediate future.
Enter Ray Emery.
In what may have been the first and most devastating blow to Salak as a 'Hawk, Emery was given the backup job after Salak had probably outperformed the veteran in training camp. This move by the 'Hawks proved to be the catalyst for Salak's nightmare of a 2011-12 season.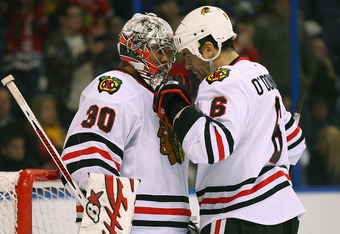 Dilip Vishwanat/Getty Images
Salak was sent to Rockford on October 3 but did not make his IceHogs debut until the 21st. Salak's wife gave birth that month, but the primary delay in Salak playing AHL hockey was his attitude in the face of being sent down.
Apparently, the organization sat Salak until he got himself into a better frame of mind. He was up with the Blackhawks briefly on October 12 when both Crawford and Emery were thought to be questionable for an October 13 game with Winnipeg. However, he never suited up for the 'Hawks and was reassigned to Rockford October 14.
Salak lost his first three starts in Rockford. By the end of November, he was 3-6 with a 3.17 goals-against average and a .890 save percentage. Salak then was injured early in the second period of a December 2 game with Lake Erie and missed over two months of action.
That was all the time Carter Hutton needed to come up from Toledo of the ECHL and wind up being Rockford's starter by the time Salak was able to return February 10. He was impressive in his first start back, a 2-1 win over the Chicago Wolves. He continued to play well in his next two appearances.
Just over a week after returning, Salak suffered what was to be his ultimate setback. It came on February 18 in Halilton, where the IceHogs took a 2-1 lead deep into the third period.
Salak gave up three goals in the span of 38 seconds, threw a fit on the ice that included yelling at his teammates, then removed himself from the game. This meltdown pretty much ended Salak's run as a goalie prospect in Chicago.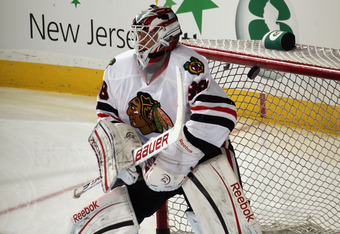 Bruce Bennett/Getty Images
Salak made just two starts in the IceHogs' last 23 games, finishing with a 6-10 record, a 2.89 goals-against average and a .903 save percentage. Hutton earned his NHL contract last season at the expense of Salak and his poor attitude.
While Hutton is expected to receive a qualifying offer, Salak is being offered to any and all NHL clubs. Another organization may roll the dice on a player who has talent and performed well in camp last fall, but it's a good bet that Salak will wind up playing back in Europe next season.
Either way, this is the Blackhawks' way of washing their hands of what appeared to be a nice signing just 12 months ago. Chalk the past year up as one that both the 'Hawks and Salak would like to forget.
That's the time it took Salak to go from NHL backup to waiver washout.