Induction Weekend at the IBHOF Made Everyone Feel Like an Inductee
June 16, 2012

Rick Stewart/Getty Images
I had intended to write this last Sunday night, but a slight controversy took place in the scoring of a main event in Las Vegas the night before.  The aftermath kind of set my week on end.
There were interviews, interviews and more interviews.  I had to constantly head into New York City from my home on Long Island to both be interviewed and do interviews.  I can thank Duane Ford, Jerry Roth and CJ Ross for that.  You know who they are.  Then, I had to work with Gerry Cooney on putting together the show we do on SiriusXM Radio—"Friday Night at the Fights."  There were guests to line up.  There was HBO's Harold Lederman…Showtime's Al Bernstein…Maxboxing.com's Allan Scotto…5th Street Gym owner Matt Biamonte.
Well, we are off the air and I am now sitting back, thinking about the fast-paced and exciting week it's been.  However, you already know tons about the rotten decision that was handed out by the three Nevada-licensed judges listed above.  What I'd like to tell you about is the fantastic weekend all of us had in Canastota, N. Y.
Canastota is the home of the International Boxing Hall of Fame.  Every year—the second weekend in June, to be exact—the IBHOF welcomes its new inductees.  Fighters, trainers, managers, promoters, media and boxing fans come from all over the world to meet, greet, hang out and talk boxing.  On Friday night, a buffet dinner is held.  At my table sat Gerry Cooney, Chuck Wepner and Leon Spinks.  At the buffet, I hung out with one of my favorite champions, Ruben Olivares. 
Saturday morning was the 3K race, as well as a golf outing (Cooney lost to Antonio Tarver by a single stroke!).  There was also a boxing memorabilia show at Canastota High School, the likes of which you have never seen.  That evening there was a gala cocktail hour, followed by a sensational banquet.  It was there I met and made friends with German promoter Wilfried Sauerland, along with two of his fighters—cruiserweight champ Yoan Pablo Hernandez and unbeaten heavyweight contender Robert Helenius.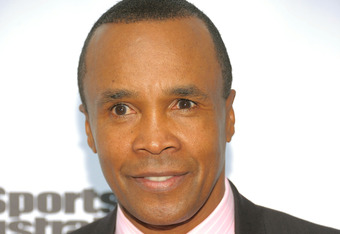 Michael Loccisano/Getty Images
I became friends with unbeaten female boxer Natasha Spence and her manager…met up with longtime friends Jack "KO-JO" Obermayer and Jeff Jowett…Steve Farhood…mended fences with inductee Michael Katz…spent special time with Thomas Hearns and Michael Buffer.  G. Elvis Phillips—you still look like a kid.  So does Chuck Williams, who constantly sings praises of Jose Sulaiman.
And a special thanks to my pal, James Smith, who drove nine hours to see me.  And to big Dan Wilk, who also took a drive just to see me. 
Sugar Ray Leonard and J.D. Brown—it's always great seeing them.  I introduced Ms. Spence to Sugar Ray.  She was so overwhelmed to meet her idol that she cried.
Billy Backus—you still look like you can go 15.  The same for George Chuvalo.
"Merciless" Ray Mercer is a funny man. 
Robert Helenius is a tall man.  I heard he was 6'7"...He's more like 6'9".
I spent some quiet, private moments with Carmen Basilio, who greeted me with a "Hi, Commissioner."
I was awakened at 4:15 a.m. by Buddy McGirt, who was running up and down the halls like a school kid away on a vacation.
Aaron Pryor gave me a nice interview, which Gerry and I will run on a future show.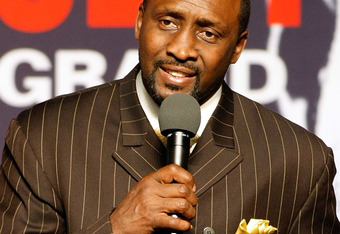 Ethan Miller/Getty Images
I watched Pacquiao get robbed on a large screen as I sat alongside Buddy McGirt, Lamon Brewster, Gerry Cooney, Randy Neumann and his wife, Sugar Ray Seales and his bride, Michael Moorer, Mark "Too Sharp" Johnson and Antonio Tarver.
The Sunday parade through the streets of Canastota was breathtaking.  I rode in the convertible with Gerry Cooney.  In the car behind us was Marvelous Marvin Hagler, who still looks like the best middleweight in the world.
I was so proud when my pal, Al Bernstein, took to the podium to be inducted.
IBHOF president Don Ackerman, who is also one of the finest judges in the world, and the Hall's executive director, Ed Brophy, and their amazing staff, cannot be commended enough for the job they did in putting the entire weekend together.
I lost my SiriusXM flash recorder and microphone.
The IBHOF staff found  it.
It took five hours to drive home to Long Island on a beautiful Sunday.  Five hours in a car with my high school girlfriend who happens to be my wife.  This, after spending a weekend with her and the boxing people I love so much.  Life just can't get any better than this!
Just know you could have been there, too.
Maybe next year you will.
I know for sure I will.