Manny Pacquiao Reportedly Fighting Juan Manuel Marquez Instead of Tim Bradley
June 16, 2012

Ethan Miller/Getty Images
Top Rank promoter Fernando Beltran told Nacion ESPN on Friday that Manny Pacquiao would be fighting Juan Manuel Marquez on November 10 instead of Timothy Bradley, Jr., per ESPN.
Pacquiao, who lost via a controversial split decision on Saturday against Bradley, will face off with Marquez for the fourth time in his career. The fight will take place in either Las Vegas or Marquez's home country of Mexico, with Pacquiao reportedly preferring to fight in Mexico.
There was talk that there might be a rematch between Pacquiao and Bradley after the controversial decision that stripped the legendary Filipino of his WBO welterweight title belt. But it appears that Pacquiao is ready to move on against a fighter in Marquez who has always given him trouble.
It was just last November that Pacquiao (54-4-2, 38 KO) won a controversial decision of his own against Marquez (54-6-1). Pacquiao won via majority decision, but despite landing more punches in the bout, many people believed Marquez was more effective with his punches.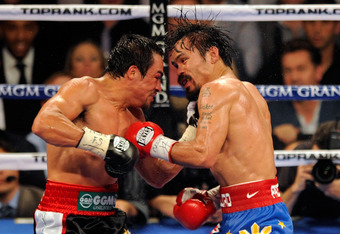 Ethan Miller/Getty Images
Pacquiao has officially won two of his three bouts against Marquez, with the two fighting to a draw in their first clash in May 2004. Marquez may go down in history as arguably Pacquiao's biggest rival and biggest test of his career. All three of their fights have been close, and Marquez's counter-punching style and strong defense was huge against the 33-year-old at the MGM Grand in November.
It is interesting that Pacquiao is reportedly preferring to fight in Mexico. Given it's Marquez's home country, Pacquiao will likely be faced with a boisterous crowd. But some may say fighting at the MGM Grand isn't exactly an advantage for Pacquiao anyway, given the controversial decision against Bradley.
One thing's for sure: If history has taught us anything, it's that this is going to be yet another back-and-forth battle that will go down to the wire.
Follow me on Twitter. We can talk about boxing together.