Beau Hossler's Mom, Amy Balsz, Steals the Show at US Open
June 15, 2012

Beau Hossler is doing the unthinkable by commanding the leaderboard at the 2012 US Open, but it was his mother, Amy Balsz, who really got the Internet smoking. 
Yes, we have an unbelievable moment taking place as a 17-year-old amateur continues to play as well as some of the best golfers in the world. 
Yet, the discourse is being lead by one hot momma. 
ESPN cut away from the links just long enough on Friday afternoon to capture an excited lady who happens to be the mother of Beau Hossler. The rest of the weekend will now be taken up with discussion on this woman. 
Tweets came early and often on Balsz. Here is one to kick us off in just what mattered at the close of business on Friday. 
It comes via CJ Fogler.
RT @cjzero: 17 yo amateur Beau Hossler is the current co-leader at the #USOpen, this is his mom twitpic.com/9wtmx3 twitpic.com/9wtmxk

— Ashley Burns (@MayorBurnsy) June 15, 2012
Here are the pictures provided by Fogler.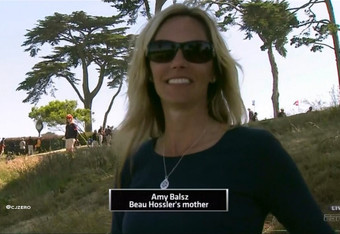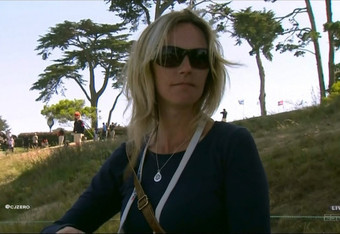 Joe George sounded off on some struggle the one-time leader experience late Friday.
Beau Hossler trying to overcome "Doughy Kid that everyone makes fun of" and "Your mom is hot" syndrome to lead the US Open.

— Joe George (@SchoonerMeJG) June 15, 2012
Lev Naginsky gets a little creepy, but this is pretty much par for the Twitter course at the moment.
I'll be rooting for Beau Hossler just so they can keep showing his mom on TV.

— Lev Naginsky (@levnaginsky) June 15, 2012
There you have it. 
A 17-year-old is putting together a remarkable couple days and is 1-over par thru 14 and all we can talk about is how hot his mom is. 
It makes me so damn mad that I... Look, if anyone has anymore photos please feel free to send them my way, or share them with the masses in the comments section. 
In all seriousness, I feel bad for Hossler who will come off the links and phone a buddy who will relay that everyone is talking about him. 
The only caveat is that he is famous for having the most talked about mommy in the tournament. Not sure you get a trophy for that, but it's worth something. 
Follow me on Twitter for more sexy news.