Areas the San Francisco 49ers Must Improve to Win the Super Bowl in 2012
June 18, 2012

Thearon W. Henderson/Getty Images
The salary-cap era in the National Football League has pretty much ended the idea of building a "super team." The last of such teams probably existed in 1994 with the San Francisco 49ers and in 1995 with the Dallas Cowboys.
Now in order to be viable on a consistent basis, franchises much work much harder up and down their organizational structure. Teams must not only draft well but they also have to be cunning in free agency.
This is a model that Trent Baalke and Co. have built throughout the last couple of seasons in San Francisco. It is also a model that will lead to sustained success if followed through consistently.
That being said, the 49ers are still in the infant stage of their emergence to elite status in the NFL. This is a team that remains relatively young, has a new stadium on the horizon and possesses a solid salary-cap situation.
One could easily conclude that the 2011 version of the 49ers were probably the worst team this franchise is going to field in the foreseeable future. While San Francisco has improved a great deal this offseason, they still haven't hit the climax in terms of talent and success.
Just imagine that. The 49ers, who came so close to a Super Bowl berth, probably haven't hit the summit yet. That is a scary proposition for opposing teams in the NFC West.
We still have to understand that the 49ers are not a team without issues. That they do have holes on both sides of the field and they did struggle a great deal in certain aspects of the game last season.
In order for San Francisco to win the Super Bowl in New Orleans next February, they are going to have to fix these issues.
So, what are they?
Pass Protection
Anthony Davis is getting rave reviews in regards to his progression as a pass-protecting tackle. The former first-round pick has struggled a great deal over the course of his first two seasons in this aspect of the game. He did, however, get much better as the 2011 season progressed.
Overall, the 49ers pass-protecting issues, which were magnified by Alex Smith being sacked nine times against the Baltimore Ravens, did get better throughout the 2011 season.
That being said, they are nowhere near where they should be as it relates to this. Smith was sacked a total of seven times in two postseason games last year, which did hinder the 49ers passing attack against the New York Giants in the NFC Championship game.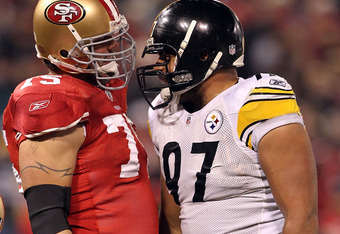 Karl Walter/Getty Images
The 49ers are also going to be holding an open competition for the starting right guard position after losing both Adam Snyder and Chilo Rachal in free agency. While neither were extremely impressive during their tenures with San Francisco, their losses do create a void. At least, in terms of Snyder.
Rookie fourth-round pick Joe Looney will be battling with Daniel Kilgore and converted tackle Alex Boone for the starting position.
Considering that Boone would be a starting tackle on over half the teams in the National Football League, he seems to be the favorite at this point. However, Looney has a lot of skill and could mold into a dynamic starting guard in the league.
I personally don't think this position is going to be much of an issue regardless of who wins the starting job.
Other than that, San Francisco is set along the offensive line. Joe Staley earned his first Pro Bowl trip last season and actually made an appearance on NFL Network's top-100 players of the 2012 season. He has obviously turned into that "franchise" tackle that most teams still covet.
Mike Iupati had a Pro Bowl-type season for the 49ers in 2011 playing next to Staley. He has a chance to be one of the best guards in the entire league this upcoming year.
Jonathan Goodwin was just as solid as advertised after coming over from the New Orleans Saints in free agency last offseason.
The pieces are in place for San Francisco to have one of the better offensive lines this year. That being said, Alex Smith was sacked more than any other quarterback in the league last year, and that obviously needs to change. It's all about consistency here.
Passing Game
A direct correlation to being able to boast a consistent passing game is what I mentioned above in regards to pass protection.
There were times last season that Smith just didn't have a chance to open it up because protection broke down. While this occurred much less than in previous seasons, it is still an issue.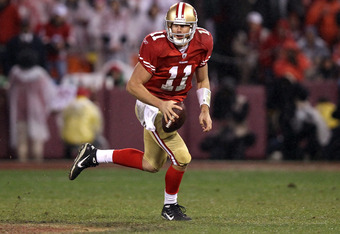 Ezra Shaw/Getty Images
The real onus of San Francisco's passing game is on Smith, who put up some pedestrian numbers last season in terms of yardage. The veteran quarterback failed to reach 200 passing yards in nine different games and threw a total of 17 touchdowns before stepping it up big time in the postseason.
While I have been an outspoken advocate of Smith throughout the last couple years, these numbers do need to increase in 2012 if the 49ers are going to win the Super Bowl. I am not expecting 4,500 yards and 40 touchdowns. Rather, a progression to 3,500 yards and 25 touchdowns will probably do just fine.
The only way that this is going to happen is if Smith gets more consistent on the deep routes. He overthrew open receivers down the field a tremendous amount of the time in 2011.
Maybe this is one of the primary reasons the 49ers are working on his mechanics this offseason. Either way, that needs to improve a great deal.
Of course, this is all predicated on Smith continuing to limit his mistakes and the wide receivers actually stepping up.
Consistency from Wide Receivers
As much of an issue as this unit was last season, I don't expect it to be a major problem heading into 2012. The 49ers added both Mario Manningham and Randy Moss in free agency.
While both do have question marks, they promise to be more consistent on the outside than what San Francisco had last season.
Simply put, I'll take Moss and Manningham over Joe Hastings and Brett Swain each day of the year. This is what's important to note.
It isn't that the 49ers are all of a sudden going to have the best receiving corps in the National Football League in 2012. It is more about the fact that they upgraded a great deal from the unit that was fielded in 2011.
This doesn't even take into account first-round pick A.J.Jenkins, who will add an immediate downfield threat for Smith.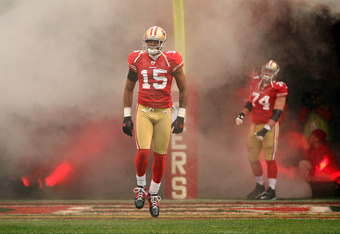 Ezra Shaw/Getty Images
The huge wild card here is Michael Crabtree. He was among the most productive receivers in the entire league towards the last half of the 2011 season.
The enigmatic receiver caught 41 passes for 539 yards in the final seven games of the regular year. This would put him on pace for 94 receptions and over 1,200 yards throughout the duration of the season.
In short, he needs to live up to that top-10 billing if the 49ers passing attack is going to take the next step. Indications are that this is going to happen.
Safety Coverage
Donte Whitner and Dashon Goldson were a dynamic safety duo last season, consistently striking fear into opposing offensive players. That being said, both do have their limitations in coverage, especially Goldson.
Considering that both are veterans and have hit their stride, it is hard to imagine these coverage issues getting much better in 2012.
The 49ers did do a great job disguising the issues that their two starting safeties had in coverage. A lot of this was masked by solid slot coverage by the nickel guy. They are definitely going to be relying on Chris Culliver to take the next step in order to help out the safeties a great deal.
Conclusion
While the 49ers are nowhere near a perfect team, they are in a better situation than pretty much every franchise in the National Football League heading into training camp late this summer.
That being said, there are some issues above and beyond the most important ones I covered above. In order for San Francisco to bring home their sixth Lombardi Trophy, these issues need to be fixed in short order.
Of course, we already know that Jim Harbaugh and Co. are spending a lot of time this offseason fixing them. And, a lot of these issues are going to take care of themselves with new personnel and young players ready to step up.
It should be exciting.