Lessons Learned from Minnesota Vikings', Rick Spielman's 2012 Draft Strategy
June 15, 2012

Hannah Foslien/Getty Images
Rick Spielman has been in the Minnesota Vikings war room for six years now, but he wasn't part of the "triangle of authority" when he was hired as vice president of player personnel in 2006. While he has had a large role in constructing the team's recent drafts, only this year did Spielman truly become the architect. When the team installed him as general manager in January, we eagerly anticipated what the team's "point of authority" would do in the first draft had the buck stop at his desk, and his desk only. Spielman gave us no shortage of items to talk about.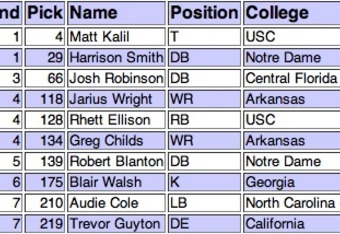 Spielman will play his hand aggressively.
The new general manager executed one of the most masterful draft day trades in recent memory, getting the Cleveland Browns to give up a fourth, fifth, and seventh-round pick to move up one spot so they could take running back Trent Richardson, the one elite prospect the Vikings were sure to pass on if they exercised their pick at number three overall.
Spielman spent months laying the groundwork for a trade down and somehow got three extra picks and the player the team was targeting all along. Spielman successfully convinced the Browns that the Tampa Bay Buccaneers (or another team) were close to making a deal for the pick and Richardson, an assertion made more believable by the likelihood that the Browns would then pass on Vikings eventual pick Matt Kalil because they already had their franchise left tackle, Joe Thomas. 
This move alone shows that Spielman plays to win and maximize his resources, which should excite Vikings fans.
Spielman will attempt to deceive other teams about his intentions.
Not only did Spielman plant seeds of interest in just about every player that could conceivably be in play at the number three overall pick, he made sure to cover the team's trail on eventual first-round pick Harrison Smith.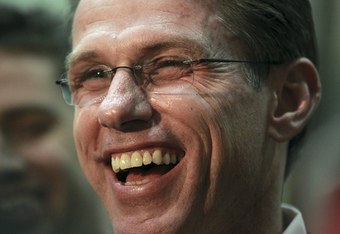 They saw just about everything they needed to see coaching him at the Senior Bowl and then the line went dead. No contact at the combine. No pre-draft visit. Obviously, Spielman still wasn't confident that his target would fall to the team's 35th pick in the second round, so they gave up a fourth-rounder (after all they had just stolen one from Cleveland) to be sure that they got their guy. Again, Spielman is fully "playing the game."
Spielman will not ignore team needs or the depth of positions in a draft.
The Vikings ended up being a mock drafter's dream, with their first four picks mapping exactly their largest needs. Head coach Leslie Frazier said no need was more important than left tackle, and voila, they spent a top-five pick at the position. Spielman said they wanted to improve the secondary, and voila, the next two pick were a safety and a cornerback. Wide receiver was another big need, and the team spent two of their three fourth-round picks at the position.
Spielman also cited the rare opportunities to get an elite left tackle in the post-draft press conference, which drove the decision to take Kalil over Morris Claiborne or Justin Blackmon. He mentioned that the depth at safety in the draft was "very slim", which drove their decision to move back into the first round for Smith. Before the second day, he mentioned that cornerback and wide receiver were deep positions in this draft, which might have made it easier to focus on safety earlier than those positions.
The Vikings under Spielman are not going to be a team that throws how other teams may value players out the window when it comes time to set their board. They are not going to be a team that is committed to a best player available approach, unwilling to make moves when they see depth or scarcity at a position. 
Spielman will approach the draft bringing to bear every weapon at his disposal to create the best possible outcome. He'll use information and misinformation, he'll try to wrap his mind around the draft as a whole. In other words, he'll be looking at everything like the most obsessive draftnik among our community, which should make predicting and analyzing his drafts a stimulating task in future seasons.