Classic SEC Football: Tennessee Tops Florida at the Swamp in 2001
June 15, 2012

Andy Lyons/Getty Images
Every Friday, The SEC Blog will feature one classic game from the storied history of SEC football.
Tennessee and Florida met in The Swamp on December 1, 2001 to close out the season. The game was rescheduled to the end of the regular season due to the September 11 terrorist attacks.
Tennessee entered the game ranked No. 4 with a 9-1 record (6-1 SEC), while the Gators were ranked No. 2 with the exact same record. The game was billed as a de facto national quarterfinal, with the winner moving on to the SEC Championship Game to play for a spot in the Rose Bowl and the chance at the BCS National Championship.
Those numbers suggested that this game should have been close.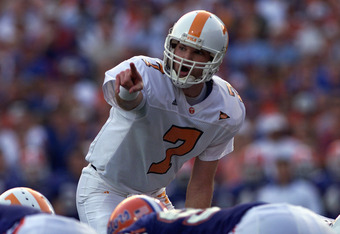 Andy Lyons/Getty Images
The numbers in Las Vegas, however, did not. Tennessee entered The Swamp as 17.5-point underdogs to the Gators.
The Vols didn't care.
On the heels of two Travis Stephens touchdown runs, Tennessee entered the fourth quarter trailing 23-21. Early in the fourth, the Vols took the lead after Jabari Davis plunged into the end zone from two yards out. The two-point conversion failed, but Tennessee had the lead 27-23 and the SEC East Championship in its sights.
Florida's ensuing drive stalled, but Jeff Chandler hit a 52-yard field goal to cut the lead to 27-26 with 10:20 to play.
On the first play from scrimmage, Tennessee running back Travis Stephens—who rushed for 226 yards in the game—broke loose on a 69-yard run all the way down to the Florida nine-yard line. Three plays later, Davis crossed the end zone for the second time to give the Vols a 34-26 lead with 8:18 to play.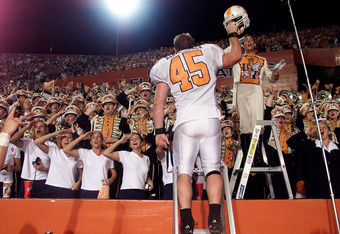 Andy Lyons/Getty Images
The teams traded punts before Florida embarked on a 10-play, 67-yard drive that culminated with quarterback Rex Grossman hitting Carlos Perez on a three-yard touchdown catch 1:10 to play to cut Tennessee's lead to two.
But Grossman was pressured on the two-point conversion try and missed receiver Jabar Gaffney in the end zone.
Tennessee had shocked the world. The Vols went into Gainesville as 17.5-point underdogs, upset the Gators and vaulted themselves into national title contention.
LSU would upset Tennessee in the SEC Championship Game the following week, preventing the Vols from playing for the crystal football. But their dramatic win in Gainesville to close out the 2001 regular season will go down as one of the best games in SEC history.
Click here to view the game's box score.