Golden State Warriors: How Many Years Until the Dubs Compete for a Title?
June 20, 2012

Ezra Shaw/Getty Images
It's been on Golden State's mind ever since that fateful run in the 2007 NBA Playoffs. After beating the odds and upsetting the first-seed Mavericks in the first round of the playoffs, the eighth-seeded underdog Warriors saw their Cinderella run fall short in the very next round at the hands of the Utah Jazz.
For an organization with only one postseason appearance since 1994, that playoff series win in 2007 was a glimmer of hope that maybe things were turning around. Sadly, that was not the case, as evidenced by the past five seasons.
A franchise hoping to keep the momentum going after their small victory saw a nice 48-win campaign go to waste after they missed the playoffs in the 2007-2008 season. Then things got even worse when the Warriors dropped sharply to just 29 wins the following season, and the eventual process of rebuilding a team.
Now, that upset playoff victory is a distant memory, and the Warriors are wondering when they will even be able to make it that far again.
The upside to that question is that the team may be closer to competing than you think. The Warriors have assembled a good core of players in their starting lineup with Stephen Curry, Klay Thompson, David Lee and Andrew Bogut. Golden State will also look to add some youthful depth to this solid starting five with their four draft picks in this year's draft.
With the Western Conference getting older and older these days, the youth movement seems to be taking place with teams like the Thunder and Clippers taking the lead. The Warriors definitely have the potential to be right there with them if they add the right pieces around them.
The first big step was taken earlier this season at the trade deadline when the Dubs dealt away Monta Ellis to acquire a quality big man in Andrew Bogut. Though Bogut has had his share of injury problems, he still has the potential to be a good, productive big man alongside David Lee in Golden State.
With possibly half of their mediocre roster from last year being gone, the Warriors have a chance to add some good pieces in free agency to give them more depth and versatility.
The Warriors could use some quality wing players who can attack the basket and defend on the other end. Dorrell Wright is currently in place to be the Dubs starting SF (depending on what happens in the draft), but they could use some help behind both him and Klay Thompson, as well. 
In order to contend in the future, the Warriors will need a deep bench to continue producing when the starters are resting. Golden State currently has the likes of Brandon Rush, Richard Jefferson and Andris Biedrins to play behind the starting unit. This isn't exactly ideal for the Warriors production-wise or financially (these three players are due $23 million combined next season). 
Luckily, Rush is solid enough to contribute, and both Jefferson and Biedrins only have one more season on their expensive contracts. This should make way for the Warriors to have enough room to lock down Stephen Curry long term, as well as adding some young pieces in free agency.
As of right now, the Warriors are not contenders, and some could argue that they are not even a playoff team with their lineup. However, this year's draft and free-agency period will both be keys to taking the right steps forward for this team.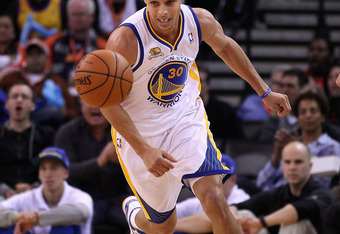 Ezra Shaw/Getty Images
If the Warriors end up with a solid class of rookies after the draft, and find some inexpensive help for the bench in free agency, becoming a contender then becomes a waiting game. 
You have to figure that with such a young team, it may take a couple of years to develop them into a cohesive unit that plays well together. That's not to say this team wouldn't be capable of making the playoffs even as soon as next season. However, competing for a title and making the playoffs are obviously two very different things.
In the past few seasons, the Warriors have made great strides towards being a title contender, but they must keep moving forward in these next few offseasons to fill all of the pieces to their puzzle.
If I was forced to give a number of years until the Warriors find their way into a high seed in the playoffs and start making runs at the NBA Finals, I'd say it is still about three seasons away.
The NBA is a crazy league, and basketball is a crazy sport, so there may be drastic changes in either direction that could put my prediction way off. However, if the Warriors continue to methodically mold their team together at this pace, three years seems about right for them to blossom from a young, up-and-coming squad to a full-fledged contender.