San Antonio Spurs: What Kawhi Leonard's Breakout Postseason Means for His Future
June 15, 2012

Christian Petersen/Getty Images
To many, Kawhi Leonard was one of the most difficult prospects to make predictions about in the 2011 NBA draft class.
Some considered him a high lottery prospect and some thought the San Diego State product was a mid-to-late first rounder. There were questions about his size, as he spent most of his college career playing power forward, but is just 6'7". 
Pundits wondered about his poor shooting, 44.4 percent from the field and an anemic 29.1 percent from three-point range in his final season as an Aztec, and whether he could ever become an effective floor-spacer. However, for as much polish as his game lacked, there was plenty of upside in the young forward and he had all the physical tools to be a success at the  next level. 
Leonard was selected with the 15th overall pick by the Indiana Pacers, but immediately traded to the San Antonio Spurs for promising point guard George Hill. Immediately, people began to hail it as the best move of the draft; San Antonio was grabbing a young, hyper-athletic defender with great rebounding instincts and an absurd wingspan.
He seemed like the perfect player to bring into the Spurs environment, one that centers on personal accountability, unselfish basketball and high level defense. 
Leonard excelled immediately upon joining the Spurs, averaging a solid 7.9 points and 5.1 rebounds while playing phenomenal defense on elite scorers like Kevin Durant and Carmelo Anthony. He settled into the role of small forward, but also could easily shift between shooting guard and power forward when necessary.
He made expensive free-agent acquisition Richard Jefferson expendable and cemented himself as the team's three man of the future. 
In the playoffs, Leonard tossed up 8.6 points and 5.9 boards while hitting a staggering 45 percent of his attempts from distance as San Antonio rolled over the Utah Jazz and Los Angeles Clippers before succumbing in six games to the Oklahoma City Thunder. Leonard's activity and relentless motor were essential to the Spurs' success, as he ran the court harder than anyone and never took a possession off. 
Now that the Spurs' season is over, the impact of Kawhi Leonard's brilliant postseason can be properly evaluated. 
First of all, he appears poised to become the new Bruce Bowen, a versatile defensive player who can lock down almost any opposing forward or guard thanks to his lateral quickness, length and athleticism. He knows when to rotate to help a teammate, has great hands and can come up with loose balls, and is willing to be physical on the defensive end of the court. 
The Spurs have not been a stellar defensive team the past two seasons. They have adopted more of a run-and-gun identity to maximize the effectiveness of Tim Duncan and Manu Ginobili, but in Leonard they have found their defensive force for potentially the next decade.  
The most impressive development has been his shooting though. If Leonard can continue to stroke the ball as well as he did in the playoffs while also developing his interior play and ball handling skills, there's no reason to think that as he can't average 15 points per game in the future.
The Spurs' offense relies heavily on having players on the court that can spread the floor consistently, and Leonard seems to perfectly fit the bill, functioning well as a spot-up or catch-and-release marksman from the corner. 
Leonard also blended well with the younger players on the Spurs, which will be important as the team transitions out of the Duncan and Ginobili era. Leonard played well alongside Tony Parker, but also with second-year point guard Gary Neal, and Tiago Splitter.
Splitter and Leonard, when paired together, give San Antonio an extremely athletic front line that can run the floor hard and make a major impact defensively.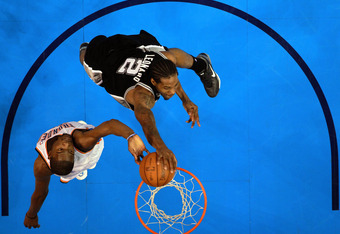 Ronald Martinez/Getty Images
The Spurs are in a state of flux right now as they try to carve out their identity for the next few seasons, but Kawhi Leonard's postseason success proved that they have at least one franchise cornerstone who can be a game-changer defensively and not be limited on the offensive end of the court.
Leonard has became their go-to perimeter defender and will undoubtedly get more run as a scorer so long as he continues to grow over the offseason. 
Leonard's stellar year proved to me that he can become a Gerald Wallace-type player, a phenomenal athlete, stalwart defender and underrated scoring option. However, if Leonard continues to improve he could end like Shawn Marion, another multi-tool player, but one whose all-around contributions made him an All-Star and MVP candidate. 
This playoff run erased any questions fans may have had about Leonard as a player, and if he continues with the momentum he built in May and June, there's no reason why Kawhi Leonard won't be one of the league's best swingmen in the near future.