Tennessee Football: Why Derek Dooley Will Be Fine If Vols Stay Healthy
June 14, 2012

During the 2011 season, the injury list in Knoxville appeared to be nearly as long as the actual roster. Obviously that wasn't the case, but the injuries the Vols suffered couldn't have come at worse positions.
Justin Hunter tore his ACL during the Vols' opening offensive series at Florida. Tyler Bray injured the thumb on his throwing hand in a loss against Georgia. Herman Lathers missed the entire season with an ankle injury. Brent Brewer suffered a torn ACL in a loss to South Carolina.
The list goes on and on, but the point stands that the Vols lost several key members in 2011 due to injuries.
Entering 2012, the pressure is on in Knoxville. The number of wins needed for Derek Dooley to keep his job is widely debated, but the fact of the matter is the Vols must make drastic improvements in order to avoid changes next offseason.
And the 2012 version of the Vols has plenty of offensive talent. Coming back is quarterback Tyler Bray, who has shown the ability to be a special talent, along with wide receivers Justin Hunter and Da'Rick Rogers, forming one of the top wide receiver duos in the country.
Up front, the Vols return every member of the offensive line, which should make great strides with another year of experience under their belts.
The talent on the offensive side of the ball has the ability to be as explosive as any offense in the SEC. For a brief moment at the start of the 2011 season, the Vols showed how good the offense could be when it is clicking on all cylinders.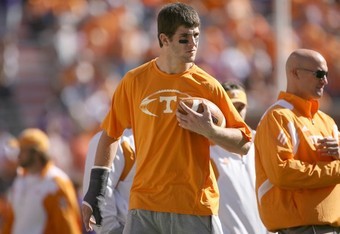 Defensively, the Vols bring back the majority of their talent at the linebacker position and most of their secondary. But the defense isn't going to be world-beaters this fall.
Making the transition from the 4-3 to the 3-4 will make it difficult for defense to win games alone, but the Vols must have a solid contribution from the defense to stand any chance in conference play.
With all of this talent returning in 2012, the Vols have more than enough to win the necessary amount of games to keep Derek Dooley's job safe.
But as we saw in 2011, everything can quickly change with one or two key injuries. The upcoming season will be no different. Tennessee must avoid the injuries that occurred last season to key players if they have any hopes of being successful.