Nebraska Football 2012: Is Taylor Martinez the Answer at Quarterback?
June 15, 2012

Mike Ehrmann/Getty Images
The ride at Nebraska has been far from a smooth one for quarterback Taylor Martinez, who will begin his third season as the Cornhuskers' starter this fall.
The embattled junior-to-be has come a long way since his freshman year and has endured as much criticism as any Husker quarterback since Scott Frost.
Ironically, however, his career began with an explosion against the unsuspecting Hilltoppers of Western Kentucky, and fans were instantly talking about the second coming of Eric Crouch. What ensued was a few more explosive games, followed by a benching against Texas, followed by a thrashing of Oklahoma State, followed by an injury that some still think he may be affected by.
After a purely awful game against Oklahoma in the Big 12 Championship, support for the then-freshman had taken a severe turn for the worse.
Heavily scrutinized during the next offseason, Martinez's teammates and coaches quickly came to his aid, saying he had been making tremendous strides during camp.
While his sophomore season wasn't exactly a night-and-day difference from year one, Martinez did seem to have a better grasp of the position.
As the Taylor Martinez saga continues, fan support seems to be split down the middle. Many are rooting for players like Brion Carnes, Tyson Broekemeier, Ron Kellogg Jr. or newcomer Tommy Armstrong to supplant Martinez, while others are still behind the explosive Californian all the way.
That split begs a very important question: Is Taylor Martinez the right guy to quarterback Nebraska's offense?
I say yes.
After getting off to such a brilliant start, it has been disappointing to see the struggles Martinez has had since then, but unless one of his backups leaps forward light-years this fall and clearly beats him out, the coaches will stick with T-Mart; and word is he is still head and shoulders above the rest.
Some of the scrutiny Martinez has received is legitimate, but I'm inclined to think most of it is unwarranted.
The expectations for Martinez soared far too high after his first performance as a freshman, so his shortcomings as he has grown into the role of starter have been compounded. He is entering the year that most quarterbacks first begin to take over—with two years already under his belt.
In those first two years, his stats haven't been overly impressive and didn't seem to improve from one year to the next. When you break it down game by game, however, you see a dramatic improvement in consistency.
As a freshman, Martinez threw for 1,631 yards, 10 touchdowns and seven picks, and rushed for 965 yards and 12 touchdowns. Those stats were heavily-padded, however, by monstrous games against Oklahoma State and Kansas State. He was highly unproductive, particularly on the ground, after that.
While that had a lot to do with an injury he sustained against Missouri, it was plain to see that teams were starting to figure him out.
A year later, he passed for 2,089 yards, 13 touchdowns and eight picks and ran for 874 yards and nine touchdowns. His rushing totals were again padded by early season games, but his passing improved far more than the stats indicate, thanks in large part to a case of the "dropsies" that plagued Nebraska's receiving corps all year long.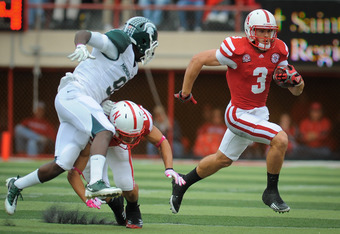 Eric Francis/Getty Images
If Martinez makes another jump like the one he made from freshman to sophomore year, there's no reason why we can't expect 3,500 total yards and 25 to 30 touchdowns on the season.
What also seems to be lost on many is the fact that this will be the first season Martinez has been in the same offensive system for two years in a row since anyone can remember. That has to count for something. Combine that with a year of experience in the Big Ten, and you ought to see a much more confident and comfortable Taylor Martinez next season.
Another huge plus for Martinez is his senior running back Rex Burkhead, who has unquestionably developed a nice rapport with his younger counterpart at quarterback. The two should have a fantastic final season together, especially if Burkhead and Nebraska's talent-laden receiving corps can help draw the defense away from each other.
Martinez's journey in Lincoln has certainly not been all smiles, but the adversity seems to have helped him go through a rapid maturation process, and with an offense that has just about every reason to succeed next season, there's no reason Martinez—who has quarterbacked this team through two relatively rough seasons—shouldn't be the starter.
Armchair coaches will disagree, citing his poor throwing motion, lack of field vision and tendency to throw interceptions. Those are all legitimate concerns, but are also areas in which I think we'll see improvement this upcoming season.
When push comes to shove, Nebraska's best chance at success in 2012 will be with Taylor Martinez as the starting quarterback.