Game Tape Suggests the Biggest Bust of the 2011 NFL Draft Is...
June 15, 2012

Some may be asking just exactly who Corey Liuget is, and judging by his debut season, it might be a reasonable question.
Liuget was picked 18th overall by the San Diego Chargers in the 2011 NFL draft. He was immediately thrown to the wolves, starting at defensive end and receiving a heavy workload despite not having a full offseason to work out as he explained to the North County Times:
"Having the playbook helped a little, but losing my first offseason was tough," Liuget said. "You can work out on your own and stay in shape, but there's nothing that can replace these (organized team activities), where you can get to know your coaches and your teammates. I learn best by doing, and there's nothing better than these practices. Having a real offseason is extremely beneficial."
The lack of a full offseason program appeared to really hurt the rookie's performance in 2011, as he tallied a measly 19 tackles to go along with a sack and one forced fumble.
Liuget was primarily a defensive end for the Chargers last season and played a variety of techniques and assignments, which shows that they expected a lot from him early on, which was perhaps a mistake on their part.
Why a mistake, one might ask?
It was a mistake because it's been proven in years past that teams that ask too much of their rookie defensive linemen early on in their careers are likely to be disappointed with what they see.
One famous example of this is new Buffalo Bills acquisition Mario Williams, who was drafted first overall by the Houston Texans in 2006 and had a slow start to his career. The reason for this is that he was moved around the defensive line early on in his career, consequently struggling to hone his craft.
This could be one of the reasons why Liuget struggled in his first season, playing a variety of techniques and gap concepts. 
Liuget was seen playing the standard 3-technique defensive alignment, which puts him outside the shoulder of the offensive guard. This alignment is typically one that requires the end to get downhill and disrupt the quarterback in the pocket much like an under tackle would in a 4-3 defense, consequently giving him 1-gap responsibilities. 
He also played at the 4-technique, putting him head-up across the offensive tackle and requiring him to read and react opposed to getting downhill. This is a tough responsibility for a rookie down lineman, because it's not something they often do in college. Further, it's especially difficult when it's compounded with a shortened offseason as was the case with Liuget.
Despite the rocky season, the Chargers had to see something in Liuget to make them take him with their first pick, and looking back on his tape, it's hard to argue with them.  
A lot of the talent that he showcased during his time at the University of Illinois was on display in his rookie season.
Liuget proved that he had quickness off the line of scrimmage that could see him potentially develop into a quality 3-technique with a very good motor one day. He also was active with his hands, showing quickness with them and using his long arms to execute the arm-over pass-rush move.  
Furthermore, Liuget showed some power when he sunk his hips into the ground and drove blockers back with a nasty bulrush, which was particularly noticeable against the Baltimore Ravens in the Chargers' Week 15 victory.  
All this was on display in what amounted to a disappointing rookie season, but why was that the case? To describe it in a word; inconsistency.
But looking deeper into the tape, there were glaring issues that contributed to him being inconsistent which could plague him for the rest of his career if he doesn't improve on them.  
These issues start with pad level. Liuget's pad level was very high at times last season, which is problematic because it prevents him from gaining leverage on a blocker. This was one of the primary sources of struggle for Liuget, and it was exacerbated by his poor footwork.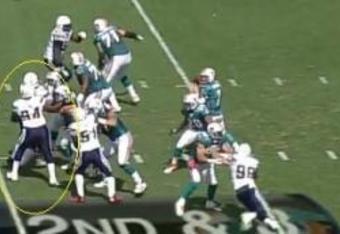 Footwork is important in every position of football, including defensive linemen. They need to play with quality footwork in order to utilize a strong base, which enables them to play balanced and avoid being knocked to the ground. The latter was an issue with Liuget at times last season, particularly in San Diego's 26-16 triumph over Miami.
Liuget played very high off the snap, failing to keep his pads down, and his base was too small, causing him to get knocked over on more than one occasion.
Moreover, one of the obvious problems with the former Fighting Illini's play last season was his inability to win at the point of attack on a consistent basis. He needs to do a better job getting out of his stance at the snap and getting his hands on blockers.
He's often late getting off the line of scrimmage and, because of this, he's unable to use his excellent quickness against an opponent because they're already in their stance and prepared to deal with anything that Liuget can offer. 
Fortunately, all of these issues are able to be fixed with coaching. His technique, specifically his high pad level and lack of a strong base, can be improved through repetitions in scrimmages and game play as well as drills in training camp.
However, in order to live up to his billing, he's going to need to become a more consistent player, which may or may not come through additional repetitions and drills; it will depend on how he reacts.
The Chargers will find that out this offseason, since it will be the first full training camp he'll have with the team. If Liuget fails to respond, he'll face the prospect of losing his job, with competition for his snaps from rookies Melvin Ingram (who is likely to slide inside in 4-man fronts on 3rd down) and Kendall Reyes, who offers a good first step and motor. 
One thing's for sure, though, Liuget's play can only improve.