Euro 2012: On Racism Issue, Denial a Growing Trend
June 16, 2012

Alex Grimm/Getty Images
Racism is fast becoming a cloud over this summer's tournament. Stories to that effect abound.
The BBC reported "banana throwing" at Croatia's match against Italy. 
The Guardian claims that "monkey chants" were directed at Holland's players during a training session. The jeers came one day after the Dutch took a team trip to Auschwitz. 
Another report notes that the Russian Federation are receiving a suspended six-point deduction. "Monkey chants" were once again involved.
The trend is as regrettable as it is disgraceful.
All that has been documented. Journalists have discussed the issue at great length. 
However, little notice has been paid to a disturbing undercurrent which pervades the subject: the culture of negligence and denial commonplace amongst those in a position to act.
Here's an example. When the Russian fans acted out, their team spokesman had this to say: "The federation has many fans. You don't have control over them all."
This was in essence, the adult version of the "kids will be kids" defense. 
After the "monkey noise" incident at Dutch training, UEFA similarly chose to deny, rather than confront the issue.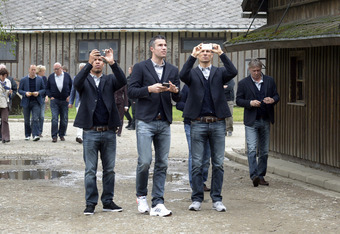 Claudio Villa/Getty Images
Holland's captain, Mark Van Bommel responded angrily to the notion that he had misunderstood the fans.
"You need to open your ears," he said. "If you did hear it, and don't want to hear it, that is even worse."
And thus, the status quo persists. Fans continue to act out in a way unbecoming of sportsmen. Those in a position to act turn the other cheek.
Poland's first black parliamentarian John Godson disagrees that there is a problem.
"You will definitely not encounter anything unpleasant here," he claims. 
The jury is still out.