Boston Celtics: JaVale McGee and 3 Ideal Free Agents to Pair with Rajon Rondo
June 14, 2012

Rob Carr/Getty Images
Rajon Rondo is one of the top five point guards in the NBA. You can argue that I'm wrong, but I'll defend that statement until he retires.
His unique skill set, excellent court vision and improving jump shot make him a player who's nearly impossible to defend.
With the Boston Celtics beginning to move on from the Big Three era, they need to start building around Rondo. This is his team now, and will continue to be his team for the next few years.
If they don't get him some young players who know how to run a fast break, they'll struggle in 2012-13.
So, let's take a look at three players who could be great complements to Rondo.
Nick Young, G
Young would be an ideal sixth man for a contending team like the Boston Celtics.
He thrived in a limited role with Chris Paul and the Los Angeles Clippers this season.
Though he played well in his time with the Washington Wizards, he might benefit from a better coach, a better point guard and a winning atmosphere.
He averaged nearly 10 points per game off the bench for the Clippers. The Celtics could certainly use that kind of production backing up Avery Bradley in 2012-13.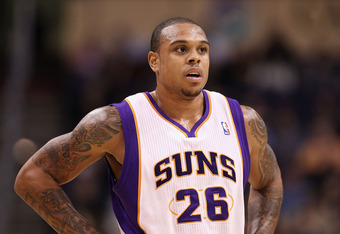 Christian Petersen/Getty Images
Shannon Brown, G
Brown is an outstanding fast-break player. His rim-rattling dunks and high-flying antics would really energize the Boston crowds and make him an instant fan favorite.
But even though he's known primarily as a dunker, he can knock down threes, too. In fact, he shot 36 percent from beyond the arc in 2011-12.
He averaged 11 points off the bench for the Phoenix Suns this season and can take over a game for a short period of time.
He's exactly the kind of leader the Boston second unit needs, and Danny Ainge would be smart to take a look at signing this exciting young player.
JaVale McGee, C
McGee makes too many mistakes right now, but under the tutelage of a coach like Doc Rivers, he could thrive.
He would be a great post presence for the Celtics and could make plays when Rondo drives the lane and needs someone to pass to.
He's also a decent shot blocker and rebounder, something the Celtics desperately need.
If he can play at his best consistently, the sky is the limit for McGee. The Celtics might give him the best chance to reach his full potential.