NBA Free Agency 2012: What Gerald Wallace's Opt-out Means for Deron Williams
June 14, 2012

Chris Chambers/Getty Images
Gerald Wallace has officially decided not to exercise his player option with the Brooklyn Nets, spurning $9.5 million for the chance to test the waters of the free agency pool. 
While this decision obviously has major ramifications for his future, it also lowers the chances that Deron Williams will re-sign with the team. 
It's important to note that this move isn't necessarily a guarantee that Wallace goes elsewhere for the 2012-2013 season. As his agent said, "This doesn't mean Gerald won't be here next year, we will explore all our options, Gerald loves NY."
However, if Wallace does decide to change jerseys for the next season, it means that the Nets essentially traded the No. 6 pick in the 2012 NBA draft to the Portland Trail Blazers for a handful of games of Wallace's services. That's not exactly a great return on their investment. 
As a result, Brooklyn is going to have to spend a lot more money if they hope to get Wallace to make the move to their new location along with the rest of the remaining players on the roster, as few as they may be. That extra money is money that can no longer be spent on retaining the services of Williams and the other free agents that the Nets were hoping to pursue.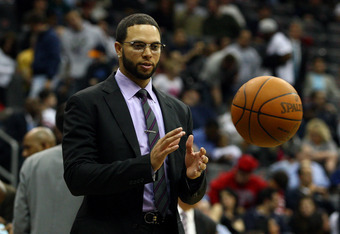 Chris Chambers/Getty Images
Williams has no reason to stay with the Nets if they can't put a roster capable of contending around him. Wallace isn't making that process any easier for the Brooklyn brass. 
Brooklyn doesn't have a single pick in the first round of the draft while the free agents from their team are quite abundant. Sundiata Gaines, Armon Johnson and Brook Lopez are all restricted free agents. Gerald Green, Kris Humphries, Damion James, DeShawn Stevenson, Shelden Williams and Wallace are all unrestricted free agents. Williams and Jordan Farmar still have player options. 
That means that the only players currently on the Brooklyn roster are MarShon Brooks, Anthony Morrow, Jordan Williams and Johan Petro. 
Without an assurance that this team can contend, why would Williams want to stay? He's a truly elite point guard capable of leading a team to a championship, provided there are a couple of studs around him in the lineup. 
Wallace's decision to pursue more money and possibly change teams isn't necessarily going to force Williams out of town, but it is going to make it significantly easier for him to justify his departure. 
At this point, the odds now have to favor Williams donning some new colors next season.