New York Giants Have No One but Themselves to Blame for Losing Ballard
June 14, 2012

Win McNamee/Getty Images
The New York Giants have stolen two Super Bowls from the New England Patriots, but this week, the Patriots stole Jake Ballard from the Giants. Not exactly an eye for an eye, but still enough to add a few quarts of O positive to the water that both teams have been circling each other in for half a decade.
While this won't affect the G-men in 2012, it could have consequences in 2013 and beyond, and they have no one to blame but themselves.
Ballard, who is recovering from dual offseason knee surgeries, won't likely be able to contribute in 2012, which was why the Giants risked exposing him to waivers in order to stash him on injured reserve and save his roster spot for training camp.
But that was a mistake, because the team had assumed no one would claim a tight end slated to miss the entire season and maybe time beyond that. They were wrong. All but one team passed.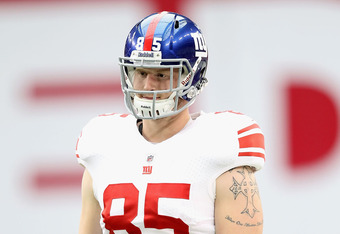 Christian Petersen/Getty Images
Ballard is now a Patriot.
Now the Giants, publicly, are pissed that they've lost a talented 24-year-old who had over 600 yards in his first full season as the team's No. 1 tight end. Privately, it's safe to wonder if they're also pissed at their rival for violating what some say is an unwritten rule.
Here's what general manager Jerry Reese told Sirius XM Radio this week, via the New York Daily News:
Yes we thought that he would clear. It's rare, but it's not the first time something like that has happened. It's disappointing for us that we didn't get him back. He did a tremendous job for us and we hope he gets well soon and that he can finish his career, whether it's with New England or whatever team he ends up with. It was disappointing, but that does happen, every blue moon.
Reese and Tom Coughlin would never admit publicly to hard feelings over such shenanigans, because that would only exacerbate their embarrassment, and they don't want to give Bill Belichick the satisfaction. They say they're disappointed, but that's as far as it goes.
But how should Giants fans feel? Was this another devious, unscrupulous, Belichickian move? Was an unwritten rule violated, as is implied by Reese?
Funny thing about unwritten rules: They aren't written. So you're always gambling. We hear every day about how this is a cut-throat business. If the Patriots felt Ballard's presence on the 2012 roster was worth his $540,000 salary, they'd be silly not to put in a claim.
Belichick's explanation comes via ESPN New York:
First of all, there aren't any unwrittens. You can't negotiate a contract, release him, and then renegotiate another contract with him that was already done in advance. I'm sure the Giants weren't doing that. So the player is on waivers, he's on waivers—ours or anybody else's. I don't know what unwrittens you're talking about...

Any time you put a player on waivers, you know there are 31 teams out there that can take him if they want him. We all know that. There is no secret about that.
Besides, isn't there a limit on an unwritten rule like that? Sure, this has been done in the past, but every situation is unique and Ballard is one hell of a player. Were teams expected to abide by this supposed unwritten rule if the Indianapolis Colts were to do the same thing with Peyton Manning last offseason?
I think what bothers people the most is the possibility that Belichick did this merely to play games and get some morsel of revenge against the Giants. He already has two of the best tight ends in the game, and Ballard could be used to the team's advantage if by chance they serendipitously collide with the Giants again in February.
We'll never know the incentive, and it might never affect either team. But if it does, the Giants could regret this one for years to come.