NBA Draft 2012: Why the Charlotte Bobcats Should NOT Hold on to Their No. 2 Pick
June 14, 2012

Jeff Gross/Getty Images
Andre Drummond, Michael Kidd-Gilchrist and Thomas Robinson are the three most likely players to be drafted at the No. 2 spot this year. However, none of them significantly improve the Charlotte Bobcats' roster—at least not enough to justify holding onto that second overall selection.
By trading their pick, Charlotte would be able to address more than one of the issues that helped them post an NBA-worst 7-59 record last season.
The Bobcats need help on both ends of the floor. They lack a go-to-guy on offense and allow far too many points on defense (over 100 PPG in 2012). So instead of drafting one guy (a young unproven talent, I might add), why not try and get two or three players to help solve your problems. Trade down. There are players out there who already give you what these draft picks are projected to do. 
Why draft Thomas Robinson when ex-Bobcat Gerald Wallace is a free agent? The two are very similar players when you break down their game. They each attack the rim aggressively and work hard on defense, but Wallace has a better mid-range game than Robinson. Sure, Robinson has a lot less mileage, but with Wallace, there is no waiting period. We know exactly who he is and what he has to offer, right now.
Why draft Kidd-Gilchrist when he is so similar to Gerald Henderson? MKG may be just as athletic and an inch taller, but he is a far less consistent shooter than Henderson. In college, Kidd-Gilchrist relied on pushing the ball in transition to score a majority of his points, never proving to have a true knack for making his own shot.
Why draft Drummond when you are already working to improve the talents of another raw talent in Bismack Biyombo? Drummond is a great shot-blocker and stellar on the offensive glass, but he shot 29 percent from the free-throw line in college.
He racked up rebounds on defense by reaching over shorter defenders, not by boxing them out. I know people hate the Hasheem Thabeet comparison, but how can you not see it? Drummond lacks fundamentals, any sort of basketball IQ and he's going to get pushed around by stronger opponents in the paint. There's just no argument against it.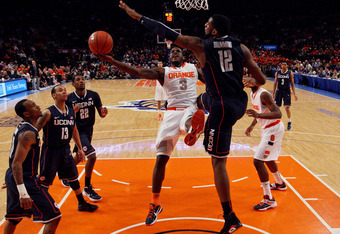 Jim McIsaac/Getty Images
Unless the New Orleans Hornets take Scoop Jackson's advice and pass on Anthony Davis, the Charlotte Bobcats need to trade that No. 2 pick. Charlotte can't afford to pick players that resemble their current roster; the second overall pick has far too much value to waste on a move like that. They need to fill all the holes before they begin repairing the others.
There are a bunch of teams (Houston Rockets, Golden State Warriors, Boston Celtics, Portland Trail Blazers, New Orleans Hornets) that have multiple first-round selections and will want to move up in the order. GM Rich Cho needs to test out the market and see what kind of packages teams are willing to send Charlotte's way.
Many analysts have said this is one of the deepest drafts in NBA history. True talent can be picked all the way down to the 20th selection, and the Bobcats should use that to their advantage.
Golden State could package their seventh pick with a quality starter in exchange for Charlotte's second pick and the agreement to take on the overpriced contract of Andrew Bogut, Andres Biedrins, or Richard Jefferson.
Kyle Lowry and Kevin Martin of the Houston Rockets have already expressed their desire to leave the team should Kevin McHale return as the head coach. One of those guys with a 14th or 16th pick would be better than Robinson, Kidd-Gilchrist or Drummond.
The Bobcats need to understand that no matter what they do in the draft, they aren't going to take huge strides in the standings.  As mediocre as the Eastern Conference might be, Charlotte is still going to miss the playoffs and be entered into the lottery sweepstakes again in 2013. 
Maybe next year the stars align (or David Stern feels sympathetic and rigs the lottery).  In that case, by trading this year's pick, the Bobcats will have created a more suitable environment for a top prospect to succeed.  Charlotte isn't fighting to compete in 2013—they just don't want to be the lonesome kid at the lunch table anymore.