NHL Trade Rumors: Rangers Eyeing Rick Nash, Shea Weber, Bobby Ryan and Others
June 14, 2012

Christian Petersen/Getty Images
The New York Rangers are not going to sign Zach Parise, but Glen Sather is looking to get a fast start on the trade process. A report from Newsday states that Glen Sather and some top members of the Rangers' brass are going to meet in Las Vegas tomorrow to start assessing the market.
Rangers general manager Glen Sather and his staff are meeting in Las Vegas starting Thursday to evaluate the market as the team heads into next week's draft and then free agency hoping to add some scoring up front and some more talent on defense.

Blue Jackets right wing Rick Nash nearly became a Ranger at the trade deadline, but Sather wouldn't agree to Columbus GM Scott Howson's steep demands. The Rangers are believed to be willing to part with their first round pick, No. 28 overall, as well as forward Brandon Dubinsky as the base of any package. Defenseman Michael Del Zotto, a restricted free agent, may also be available, though rookie sensation Chris Kreider is most definitely unavailable after his big playoff debut.

Ducks forwards Ryan Getzlaf and Bobby Ryan could be on the trading block as well, and the Rangers may try hard to pry defenseman Shea Weber out of Nashville.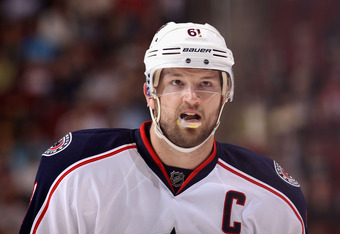 Christian Petersen/Getty Images
This is no surprise as the Rangers have been very interested in Rick Nash since the trade deadline. A package of the No. 28 overall pick, Brandon Dubinsky, Michael Del Zotto and a prospect seems to be the direction the Rangers are leaning in.
This package is fair and, give or take a few pieces, could get the job done.
Scott Howson asked for an arm and a leg at the trade deadline and then devalued Rick Nash by throwing his franchise player under the bus in a post-deadline press conference.
The willingness to include Del Zotto in a trade may speak to Sather's confidence of potentially landing unrestricted free agent Justin Schultz or another quality defenseman.
Del Zotto is a quality offensive defenseman, but Sather would not part with him unless he knew he could replace him via another trade, free agent signing or with a prospect like Tim Erixon.
The good news for Rangers fans is that Chris Kreider is off the table, and the Rangers are willing to part with other players to make a deal. Kreider is an important player and is expected to have a huge impact next season.
In terms of fit for the Rangers, Nash brings a lot to the table. He is an older, more developed version of current rookie sensation Chris Kreider. Nash is a solid skater, possesses a great shot, has size and plays in the dirty areas of the ice.
The biggest negative brought up with Nash is his $7.8 million cap hit. In an age where repeat Stanley Cup victories are so seldom, fans and teams need to look at what a player brings to the table immediately instead focusing on the future implications surrounding a particular player . 
The Rangers would shed salary in a trade and likely would incur only a $3 million to $4 million increase on their books. If the Rangers did add Nash and won the Stanley Cup next season, it becomes easier to decide who should and shouldn't be retained long term.
Nash may have an albatross cap hit, but in New York, he would be surrounded with complementary players like Kreider, Marian Gaborik, Brad Richards, Derek Stepan and Ryan Callahan.
Needless to say, adding Rick Nash would be huge for the Blueshirts, but the other names listed in the report are very interesting.
Ducks on the Pond?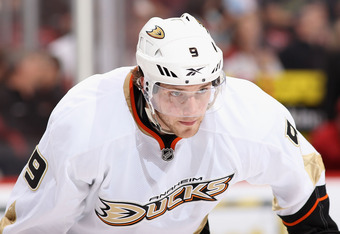 Christian Petersen/Getty Images
Starting with Ryan, the Rangers would love to add a young, talented and dynamic scoring forward. Ryan was rumored to be on the trade market early last season, and the Rangers pursued him hard.
The Ducks then decided to hold onto Ryan, and they fired Randy Carlyle and hired Bruce Boudreau. Anaheim went on a solid run during the second half of the season, but they ultimately fell short and  gave the impression that the season was a fluke and they would contend again next season.
Ryan Getzlaf is another interesting name for the Rangers because this is now the second time he has been linked to the Blueshirts. Larry Brooks of the New York Post indicated that the Rangers had some decisions to make in regards to Artem Anisimov and Derek Stepan after disappointing playoff performances.
Getzlaf would be a great pickup because of his strength, skill and size, but the Rangers have a more dire need on the wing, so unless the price is right, the Rangers should pass on Getzlaf.
Music City Magic?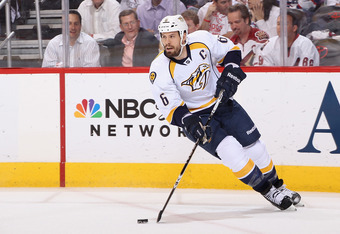 Christian Petersen/Getty Images
Lastly is Shea Weber. Weber is a restricted free agent, and NHL Insider Darren Dreger acknowledged that the Blueshirts have the assets to trade for his negotiating rights. Weber is a defenseman who would instantly give the Rangers one of the best defensive groups in the NHL. 
He has a booming shot, plays with an edge and would drastically improve the power play. Weber would not only be a great addition, but a luxury.
The Rangers have a solid defensive core. Ryan McDonagh has emerged as a future All-Star. Dan Girardi is an absolute warhorse. Marc Staal is back to his old self. Also, the Rangers have Tim Erixon, Del Zotto and Dylan McIlrath in the fold.
When you consider, though, that the Rangers could add Schultz and trade Del Zotto for Rick Nash, it would be wise to sign a veteran bottom-pairing defenseman for insurance. 
What Does This Mean?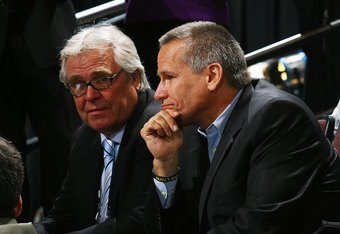 Bruce Bennett/Getty Images
Overall, none of this information is surprising. Glen Sather knows what he needs to do with the team. He said at the trade deadline that he was confident that he would be able to address key needs in the summer.
Glen Sather relaxed, puffing unlit cigar, feeling no pressure to make big move. If #NYR fall short, can always add in summer.

— Chris Botta (@ChrisBottaNHL) February 24, 2012
Sather is a master trader and likely wants to move fast so he can be prepared for free agency on July 1.Ranger fans were dejected when Parise snubbed the franchise with his breakup day comments, but hearing that the Rangers are likely going to add some elite level talent should bring a smile to their faces.
Nothing is for certain, but the Rangers are looking to make a huge impact very soon.