Arizona Cardinals: Are the Cards Finally Done Re-Building?
June 14, 2012

Christian Petersen/Getty Images
Six years ago, the Arizona Cardinals selected quarterback Matt Leinart with the 10th overall pick in the 2006 NFL draft. Six years later, the team has gone through him and three other quarterbacks before deciding to roll with Kevin Kolb and John Skelton.
Injuries and laziness have derailed Leinart's pro career, and if it were not for Kurt Warner, Arizona might not even be considered a team. Warner led the Cardinals to great things from 2007 to 2009, but as Colts fans are learning this year, everything great usually comes to an end.
When the Warner era was over, Arizona was in a very tough position. They had an offensive line with more holes in it than Swiss cheese and an average (at best) defense. This was masked for almost three years, but it all came crashing down on the Cardinals in 2010, when Derek Anderson and company finished with a 5-11 record.
Despite digging themselves in a very deep hole, the Cards' front office and staff has done a pretty good job of getting out of it. With all signs pointing up, the question that begs to be asked is this: Are the Arizona Cardinals done rebuilding?
While most people would say no, Arizona has done a great job of adding youth to just about every position on the depth chart. Why would people say no? Let's take a look at some of the question marks the Cardinals have.
Quarterback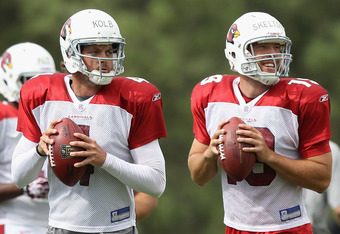 Christian Petersen/Getty Images
Due to the rules about targeting the head or hitting a defenseless receiver, the NFL is becoming more and more of a quarterback-driven league. Arizona has both Kevin Kolb and John Skelton competing for the starting job, but after their performances in 2011, many fans, writers and teams do not seem too worried about the Cardinals.
While both men have their fair share of negatives, they have also shown that they have the capabilities of being good NFL quarterbacks.
Even if the Cardinals' front office was wrong about Kolb and he does turn into a bust, that does not mean Arizona has to go right into re-building mode. They have two young quarterbacks that could quite possibly be ready to take on the role of an NFL starter in a year from now.  
Offensive Line
If I had a dollar for every time the Arizona Cardinals' offensive line has been put into question, then I would probably have enough money to buy season tickets and the jersey of every single player on the roster.
But what most people outside of Arizona do not realize about the Cardinals is that they have done a pretty good job addressing this issue through both free agency and the draft.
Over the past two seasons, center Lyle Sendlein has been playing out of his mind, and the Cards were also able to get two steals in free agency—guards Daryn Colledge and Adam Snyder. While the interior of the line is not what most people question, it is still extremely overlooked.
At tackle, many people around the league still look at Levi Brown as a first-round bust that would not start on any other team. Sure, he had a rough first few years in the league, but he improved as the year went on in 2011 and was great down the stretch for Arizona. If he can continue playing like he was at the end of last season, then he could end up in the Pro Bowl in 2013.
At right tackle, Brandon Keith is now gone and there will be a competition between veteran Jeremy Bridges and rookie Bobby Massie for the starting job. Arizona was unable to pick up Jonathan Martin or Riley Reiff like most people, myself included, were leaning towards, but stealing Bobby Massie in the fourth round certainly made up for that. While neither player is Jake Long or Joe Thomas, they are both upgrades from what the Cardinals had last season.
On top of the starters, the Cards' front office also used several draft picks to add both depth and youth up front. Senio Kelemete and Nate Potter should not start in their rookie years, but they are there to learn from players like Colledge, Sendlein and Snyder so they can take over in the future.
These are, for the most part, the two areas that people point to when talking about why Arizona is not a playoff contender. As seen above, the Cardinals have addressed these issues, and at this point the "they are nothing without Kurt Warner" line is getting pretty old.  
By no means am I saying that Arizona is going to win the Super Bowl this season, but they are in a very good situation right now. Players like Colledge, Sendlein, Darnell Dockett and Adrian Wilson, among others, are all still at an age where they can play at a quality level for several more years. With the amount of young talent that is behind these players and the amount of depth they have at almost every position, the Arizona Cardinals are no longer in a re-building stage.