Ben Roethlisberger Needs to Change His Playing Style
June 14, 2012

Jeff Gross/Getty Images
You can't teach an old dog new tricks, especially if that old dog doesn't want to learn new tricks. That appears to be the case with Ben Roethlisberger altering his playing style.
Why should he? Roethlisberger has been plenty successful in his eight seasons as the Pittsburgh Steelers' starting quarterback.
Over his career, he has 80 regular season wins, six playoff appearances, three Super Bowl appearances and two Super Bowl victories. He has a number of team and NFL records and is regarded as one of the best quarterbacks at extending plays.
Quite simply, Big Ben plays the game how he knows best, and he has been highly successful in doing so.
But at the age of 30, Roethlisberger needs to take the advice of team president Art Rooney II and "tweak" his style of play.
At this point of his career, Roethlisberger isn't going to recover from injuries as fast, and the team can't afford to not have him at his fullest. This was clear last season when he suffered a high ankle sprain that virtually ended the Steelers' chances in the playoffs before they even started.
The primary change in Roethlisberger's style would be to avoid hits. He has been sacked 314 times in 113 regular season games, and the 261 sacks he has taken since 2006 are the most in the league.
Roethlisberger has only been sacked fewer than 40 times in three seasons. His first two years, he was sacked 30 and 23 times, but he played in only 14 and 12 games respectively. He was sacked 32 times in 2010 when he only played in 12 games due to a suspension.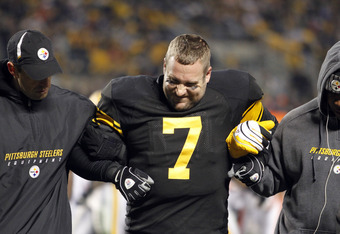 Justin K. Aller/Getty Images
The large number of hits have led to a wide variety of injuries over the course of his career, including a rib injury, multiple knee injuries (including a torn meniscus), his infamous thumb injury in 2005, concussions, a broken nose and a foot sprain to name a few.
It isn't that Roethlisberger doesn't get it; he just doesn't seem to care.
"'I'm not going to change my game,'" Roethlisberger said (via ESPN.com). "'Coach can do what he wants to add protection and do things like that. I'm going to play the game the way I know how. It's worked OK for me so far.'"
It's fine that it has worked so far, but at some point the body will break down. He will no longer be able to out-run or out-maneuver younger, faster defenders. It will take longer for his body to recover from the sacks that he takes on a weekly basis.
Maybe it was this attitude that made the Steelers make so many offseason changes with their offense this year.
Todd Haley was brought in and is implementing an offense that will get the ball out of Roethlisberger's hands quickly and put a re-emphasis on running the ball effectively, which will also help set up the play-action pass.
Another focal point of the offense will be getting the running backs more involved in the passing game. Rookie Chris Rainey has already been very involved in this area during offseason practices.
The coaches and front office made a big effort to improve the protection as well. Call it luck, but the Steelers took advantage of David DeCastro and Mike Adams falling to them in the first and second rounds respectively.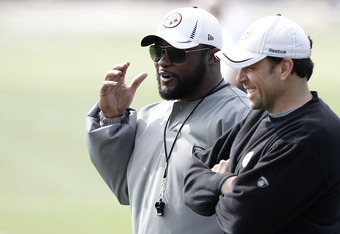 Jared Wickerham/Getty Images
Expect both rookies to start, as they should both be upgrades over their veteran counterparts.
These changes should help alleviate some of the defensive pressure on Roethlisberger. However, even with the changes, Haley does not want to take away the part of the game that makes Roethlisberger so good.
"'It's one of the best things he does, and it's what separates him from all the other guys in the league for the most part,'" Haley said (via ESPN.com). "'So you don't want to take that great ability away from him.'"
Roethlisberger can still extend plays; the team just wants him to take fewer hits while doing so. That is what he needs to tweak and he understands this.
"'I don't think there is this big revelation like I need to do this and do that,'" Roethlisberger said (via ESPN.com). "'It's 'don't take hits,' but I don't know how to do that.'"
Not understand how to avoid hits? It is quite simple—get rid of the ball. Find the open receiver and hit him. Throw the ball to the running back open in the flat. Look for your under-utilized tight end Heath Miller. Throw the ball out of bounds.
Roethlisberger sounds as though he is just being stubborn. It is not as if he is being asked to change his mechanics, his footwork or how he carries himself on the field. He is being asked to change what will keep him on the field and healthy for what the team hopes will be another Super Bowl run.
Roethlisberger likes to extend plays at the risk of being hit. It is now time that he starts to think about extending his career, and that begins with avoiding hits.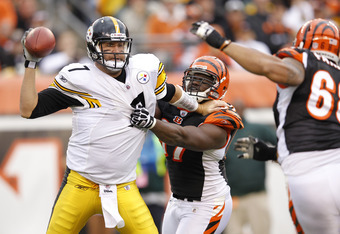 Joe Robbins/Getty Images
This old dog needs to learn a new trick. The team is doing everything to make the job easier; now he just needs to grasp it and tweak his style.
Follow me on Twitter @ChrisG_FC