2012 New York Giants: Why G-Men Are Set Up to Disappoint This Season
June 14, 2012

Chip Somodevilla/Getty Images
There's nowhere to go but down.
After winning a Super Bowl, the 2012 New York Giants are going to have a hard time playing better than they did a season ago. 
If the Giants want to repeat, they'll need to be flawless. Unfortunately, that's hard to do.
There are a myriad of reasons as to why the Giants won't repeat. In fact, there's reason to believe that they will disappoint. 
We'll break down some reasons as to why the Giants will disappoint in 2012.
Lack of Tight End:
The Giants lost both Jake Ballard and Travis Beckum to ACL tears. Ballard is now a New England Patriot. 
The Giants signed former Cowboy Martellus Bennett as a replacement. Last season, Bennett had 17 catches for 144 yards.
He's been a backup his career and in glimpses, he's shown talent. But there is still cause for concern.
Bennett has bulked up to 291 pounds, which is 21 pounds over his listed weight. The weight gain is giving him problems, according to tight end coach Mike Pope: [via ESPN New York]
"Other than the hamstring injury, he is making progress," Pope said of Bennett, who is also making the transition to a new team and offense. "He catches on. He weighed in at 291 pounds last week. So I think that is probably a little too big for his legs to carry. We run a lot more than he might have been accustomed to.

Plus we are in the middle of a weight program and the combination of those two things has caused him, especially, to have some problems with his hamstrings," Pope added. "He can't afford to miss time, either. Because he needs every possible rep he can take."
If Bennett can't lose the weight or can't play well at his current weight, then the Giants will have problems. Behind Bennett on the depth chart is Bear Pascoe who, while a good blocker, is not much of a receiving threat. 
Bennett has to step up and replace the production of Jake Ballard, who caught 38 passes for 604 yards and four touchdowns. If he can't, the Giants offense will suffer.
The tight end position is increasingly becoming more important in today's NFL and the Giants are on the outside looking in.
Nicks Injury
With the NFL being a truly year-round sport, injuries are bound to happen. For the Giants, an injury happened to a star player.
Hakeem Nicks broke his foot and underwent surgery. He's expected to be back right before the season starts, but injuries can be tricky.
If Nicks is out for any extended period of time, the Giants are in trouble. Nicks hauled in 76 passes for 1,192 yards and added seven touchdowns. 
Nicks' presence opened up opportunities for Victor Cruz to make plays. Nicks is a nightmare against single coverage, so you had to put a safety on him. That left Cruz in single coverage where he was able to exploit that.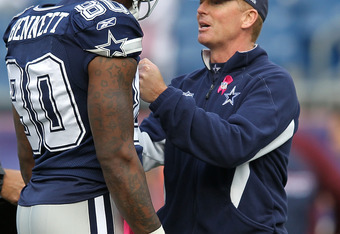 Jim Rogash/Getty Images
If Nicks comes back and is not himself, then the Giants will have to find a way to compensate. In that scenario, Victor Cruz would see a lot of attention from defenses, putting the onus on rookie Rueben Randle to contribute. 
Lack of Depth in Running Game
The Giants lost Brandon Jacobs to free agency and are worse off for it.
There is no one on the roster who can duplicate Jacobs' skills.
The Giants drafted running back David Wilson in the first round. He projects as an electrifying playmaker.
While that's all well and good, he is not considered starting material, at least not yet. He is a change of pace back.
If Ahmad Bradshaw gets hurt, then the Giants are in trouble. Wilson will have to assume a role he's not ready for.
Even if Bradshaw stays healthy, the Giants do not have a short-yardage back. When 3rd-and-2 comes around, the G-Men will be hard-pressed to run the ball effectively. 
Uncertainty at Linebacker
The Giants won the Super Bowl playing almost exclusively with two linebackers, but it's a not a trend that looks sustainable.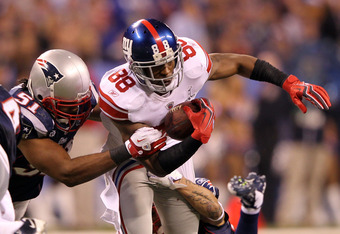 Jamie Squire/Getty Images
The Giants often played in their "Big Nickel" package, which featured three safeties. But Deon Grant, one of the three, was not brought back and there is no safety who is similar to him on the roster.
The Giants will have to use three linebackers. But in which permutation?
The Giants acquired Keith Rivers from the Bengals this offseason. Rivers is a former first round pick and has a world of talent, but has not yet been able to stay healthy.
Mathias Kiwanuka is best suited for defensive end. In fact, his talents are wasted at linebacker.
Michael Boley and Jaicquan Williams, who were a decent combo last season, will likely continue at linebacker. The question is who will join them.
The favorite is Rivers, but he's a shaky bet considering his injury history. Other candidates include Mark Herzlich and Greg Jones.
Unless Rivers can stay healthy and revert to his first-round form, then the Giants will have issues at linebacker.
Other Threats in the Division:
The rest of the NFC East really improved over the offseason. 
The Cowboys signed cornerback Brandon Carr and drafted Morris Claiborne—two moves which should shore up their weak secondary. And don't forget; the Cowboys were one game away from making the playoffs instead of the Giants.
The Eagles are in year two of the "Dream Team" and finished last season on a four-game winning streak. They had a strong draft and the acquisition of DeMeco Ryans will help their linebacking unit.
The Redskins made the bold move to trade for Robert Griffin III. RG3 will already be an upgrade over Rex Grossman. They also signed Pierre Garcon, giving them a weapon for RG3. The defense was already strong and the Redskins could surprise.
The Giants reached the top of the mountain last year, but the climb down is lonely. Every team will be gunning for them, and they'll have to be perfect to win again. 
With the lack of a true tight end, lack of depth at running back, the injury to Hakeem Nicks, the uncertainty at linebacker and the other threats in the division, the Giants will have to overcome a lot to make it back to the Super Bowl. Anything else will be a disappointment.