WWE No Way out 2012: Why Dolph Ziggler Is a Better Fit Than Alberto Del Rio
June 14, 2012

The WWE sure is struggling to keep their marquee names in the ring these days. There are a number of reasons that different stars are unable or unwilling to compete, but it happens to be the perfect storm for Dolph Ziggler.
The Rock and Brock Lesnar, currently the two biggest household names associated with the WWE, have enough on their plates that they can come and go as they please (choosing "go" more often than "come").
Living legends such as Triple H and the Undertaker, while past their prime, are still capable of putting on stellar matches—as we most recently witnessed at WrestleMania 28—but choose to do so very sparingly.
Disciplinary action has cost WWE three more men capable of headlining their pay-per-views. The Wellness Policy has temporarily put Randy Orton and Rey Mysterio out of action. Chris Jericho is taking his punishment for an ill-advised stunt with another country's flag.
Then, less than two weeks before he was scheduled to be in one of the three main events for No Way Out, the No. 1 contender for the World Heavyweight Championship, Alberto Del Rio, suffered an injury and won't be cleared to compete on Sunday.
But really, is taking ADR out of the equation a big loss for the WWE? Not if you ask me.
As much as I personally like the Mexican Aristocrat, the only part of this feud I was looking forward to was the potential for Sheamus to lose the title. But I'd rather see the title go to Dolph Ziggler, and if the ovation he got after pinning Christian is any indication, the WWE Universe feels the same way.
Ziggler is as over now as he has ever been. "Push Ziggler" is becoming very popular signage at live events. The stickers he and Zack Ryder produced for the e-feud sold out. He's over—and for good reason.
He's honed his in-ring skills to be one of the most well-rounded competitors the WWE has to offer. He could work a solid match with Sin Cara, and he could work a solid match with The Big Show.
And it's not just his wrestling—it's his composure.
If you've been a fan of the product for the last two decades, I don't think you can help but notice the similarities to two other bleach-blonde, all-time greats: Jeff Jarrett and "Mr. Perfect" Curt Hennig. For an athletic, cocky heel, it would be hard to find two better superstars to emulate.
We've already seen him face off against Sheamus twice recently, and both non-title, free-television matches easily qualified as match of the night. How much better will the matchup be for a World Heavyweight Championship match on pay-per-view?
But even if all of that isn't enough for you, what about the potential stories being told in the match? I think Sheamus/Ziggler has a lot more potential than Sheamus/Del Rio.
What's the backstory to the Great White/ADR feud? Del Rio was injured, came back, wanted the title again and has attacked the champion from behind on several occasions. Sheamus then reciprocated.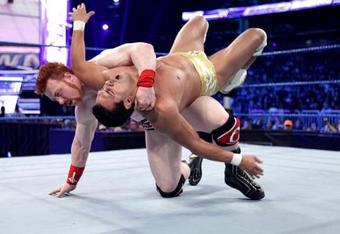 Other than that, all you have is the tired angle of silver-spoon heel and self-made hero. It's not a horrible angle (otherwise, the industry wouldn't recycle it so often), but it's far from innovative.
Del Rio has held the title twice before; being a three-time champion isn't going to have a great impact on his credibility, his ability to draw or the reaction of the WWE Universe.
Ziggler's opportunity, by contrast, has a set-up that I don't remember seeing before: someone who lost two matches to the champion (clean losses, no less) but still finds himself as the No. 1 contender. Sure, WWE creative is just playing the hand they were dealt, but it's an interesting hand.
Ziggler is on a mission to prove he is a legitimate threat as a singles competitor.
While there isn't much of a story between Sheamus and the Show-Off, they are both trying to prove their legitimacy: Sheamus as a bona fide champion and Ziggler as a bona fide main-eventer.
While Ziggler can claim to be a former world champion, the statement is still controversial enough to require an asterisk. A win at No Way Out would finally change all of that. It would be a big step to the next level.
Win or lose, if the WWE doesn't drop the ball, this will be a big match for Ziggler.
At a time when young talent like CM Punk, Daniel Bryan and Sheamus are the ones hovering around the world titles, Ziggler has a chance to follow suit and prove he can play with the big boys. I think he's ready for it, and if they let it happen, I think Ziggler will continue to climb and never look back.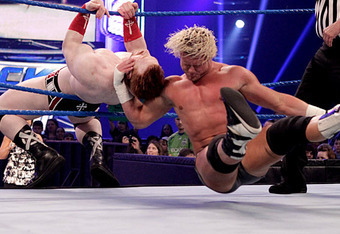 Even a loss, if done right, will serve Ziggler well.
He had several near-falls in his two matches with Sheamus, so there's no reason to believe the same won't come to fruition at No Way Out. A three-count with a knocked-out referee could be part of their plan.
As long as the loss isn't another non-controversial win for Sheamus, Ziggler's character won't suffer. The most obvious culprit would be Jack Swagger, attacking his former tag partner out of spite and jealousy. But a program with Swagger isn't going to put Ziggler's character where it needs to be.
The great thing is, if Ziggler doesn't leave No Way Out with the title, he doesn't need another program to remain in the spotlight.
The pay-per-view following No Way Out is Money in the Bank. For years, people have been waiting and hoping to see Dolph with the briefcase. If he doesn't take the title from Sheamus, this could be Ziggler's year to finally be Mr. Money-in-the-Bank.
I really like Sheamus vs. Dolph Ziggler for the World Heavyweight Championship. No offense, ADR, but Ziggler is just a better fit.
B/R readers, what do you think? Do you like Ziggler taking ADR's spot? Do you wish ADR was still in it? Or do you think WWE should have gone a different direction than Ziggler?