NBA Trade Rumors: Why the Sixers Must Trade Andre Iguodala for a High Draft Pick
June 14, 2012

Kevin C. Cox/Getty Images
As you may know, the 2012 NBA Draft class is pretty deep this year.
While there are lots of talented players who could end up being stars, teams picking outside of the lottery may want to trade up to secure a talented player.
One of those teams is the Philadelphia 76ers.
The Sixers have the 15th pick in the NBA Draft, and in a deep draft class, they should be able to secure a talented player, like Terrence Ross, Arnett Moultrie, or Austin Rivers. However, if they traded up, they would be able to fill their biggest needs and take a big step into the future.
Andre Iguodala could be a possible trade target. Sources told ESPN.com that the Toronto Raptors have at least two known trade targets: Memphis Grizzlies swingman Rudy Gay and Philadelphia's Andre Iguodala. 
Iguodala, a great perimeter defender, could help the Raptors a lot on defense while still having opportunities to score in double-digits. Philadelphia would land the eighth pick in the draft, Jose Calderon, and Ed Davis.
Philadelphia has a young backcourt featuring Evan Turner and Jrue Holiday, although Turner can play small forward. Calderon could play point guard and Holiday could play shooting guard, but Calderon would not be a good fit in the backcourt.
Iguodala would be gone, so Thaddeus Young would start at small forward. However, Young would see limited minutes and Holiday would not get to play his best position (point guard) with Calderon.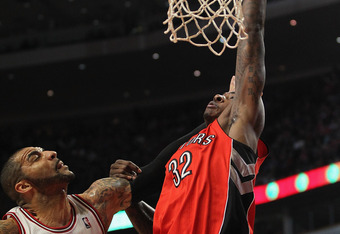 Jonathan Daniel/Getty Images
Ed Davis is a better fit in Philadelphia, because he is a big man. However, Davis averaged 6.3 points per game, which was 11th on his team. Davis can rebound, as he averaged 6.6 boards per game (in about 23 minutes per game).
Davis is a great post defender, but other than rebounding, he is not great at much else. Davis could come off the bench and get about 20-25 minutes per game, and Calderon could be traded to a team in need of a point guard.
While both players are good and could help the Sixers, the draft picks are what the Sixers really need. Picking eighth would allow the Sixers to grab a player like John Henson, Meyers Leonard, and maybe even Andre Drummond.
Philadelphia seems to like Drummond, and it is possible that they may pull off a trade on draft day to try to bring him to Philly. However, if they do not land Drummond, they could get John Henson.
Henson is a great rebounder and defensive post player, and he is an average offensive player. He would fit in very well because the Sixers are a team built around defense. Henson can score, and when he has a good point guard passing him the ball, he is a legitimate scoring threat.
Luckily, the Sixers have Holiday, who could blossom into a star with a good target down low. Henson's offensive skills vastly improved during 2011-12, and he shot 50 percent in his senior year.
Henson would help the Sixers a lot, and there are other guys that would too. Philadelphia would keep the 15th pick, and with a center out of the way, they could focus on another need.
Young would be the small forward, Lavoy Allen, Davis or a free agent signing would play power forward, Henson would play center, Holiday would play point guard, and Turner would play shooting guard.
However, there are shooting guards in the draft. Terrence Ross of Washington is very underrated and will likely fall to the Sixers at 15. He is a great shooter who creates his own shots very well, and he is a good perimeter defender
Ross is very athletic and averaged 6.4 rebounds per game in college. He has incredible dunking ability and athleticism, and he could replace Iguodala as the player who lights up the crowd with steals and thunderous dunks.
Ross knows what to do and does everything he can to get his team a win. That attitude will be key in Philadelphia, where he would be a great fit. Ross is a good all-around player, but he would benefit from some time to hone his skills.
At first, Ross would take the place of Lou Williams (who will opt out of his contract) at sixth man, but he would play shooting guard. When he is ready, he would start at shooting guard and Turner would move over to small forward, and Young would be the sixth man.
Overall, this would be a good lineup for the Sixers. They would have a young team, so a year or two might be needed before a run to the NBA Finals. However, the Sixers will contend for years to come, and they are only going to get better.
And during their run, do not be surprised if Philadelphia brings home an NBA Finals trophy.