What Makes Jets QB Mark Sanchez Better in Big Games?
June 13, 2012
Jim Rogash/Getty Images
If Jets quarterback Mark Sanchez could play in the regular season the way he plays in the postseason, the Jets could be a legitimate contender for the AFC East crown and for a top seed in the conference.
But why is he so much better in the postseason than in the regular season?
One of the biggest things is that the Jets make it easy for him. They simplify his reads by giving him a reliable first option. They call plays that give him big windows to throw into.
He has performed well under pressure in part because the Jets have done everything possible to minimize the direct pressure on Sanchez.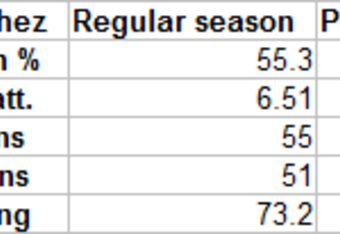 One of his best postseason performances came against the New England Patriots in the divisional round of the 2010-11 playoffs. In that game, Sanchez went 16-for-25 passing (64 percent completions) for 194 yards, 7.8 YPA, three touchdowns and a passer rating of 127.3—his second-best mark in his postseason career.
Let's work our way chronologically through a few plays to reveal just what happened that made his day so much easier.
The Jets faced an early third-down against the Patriots defense.
Cornerback Darius Butler is in coverage on receiver Jerricho Cotchery in the slot and gives him seven yards of cushion. That's a lot of cushion for such a short-yardage situation, but it looks like Butler wasn't even ready for the snap.
In that sense, this is great recognition by Sanchez to notice that the defense isn't ready and that Cotchery is the one who will likely be open.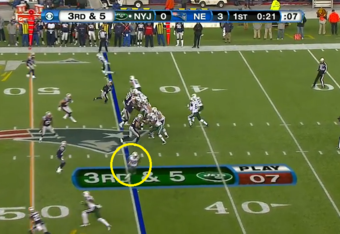 Sure enough, Cotchery gets a free release on a short out pattern, and the throw is out before Butler has time to react to it.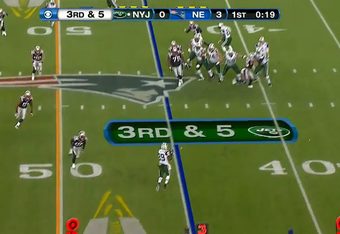 Sanchez's throw is accurate, but could have been placed better. If Cotchery didn't have to turn around and jump for the ball, he would have gone uncontested to the first-down marker. Butler still has a chance to make the tackle before the marker, but Cotchery makes him miss and the Jets convert the third down.
CBS analyst and Hall of Fame NFL quarterback Phil Simms broke down the play and described what went well for the Jets:
Good job by Mark Sanchez—quick snap count, defense not quite ready, gets rid of the football, makes the decision right away. [He] throws to the flat, it's accurate, and that allows Jerricho Cotchery to get that first down.
Sanchez performed well under pressure, but even better on the pressure down—third down. The Jets faced 13 third-down situations and converted six (46.2 percent). 
Mike Dussault of PatsPropaganda.com broke down the third downs faced by the Jets in the first half and in the second half, pointing out, "Of the nine third downs the [Jets] faced [in the first half], eight of them were four to six yards."
That means the Jets did a good job of minimizing the pressure on Sanchez in those third downs. Knowing that the Patriots had a weak third-down defense (47.14 percent, worst in the NFL in 2010 according to Cold Hard Football Facts), the Jets found ways to exploit that weakness as much as possible.
Setting Sanchez up for success was a great way to do just that.
Let's look at a seven-yard touchdown catch by running back LaDainian Tomlinson.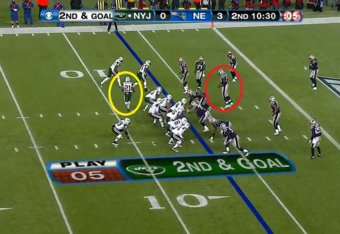 On second-and-goal, Sanchez sends LT in motion. LT moves up out of the backfield and splits out wide. This creates a stacked set on the offense's left side.
It also forces linebacker Gary Guyton to take Tomlinson in coverage and creates a bit of a matchup problem in the process. With so many receivers on the outside, it increases the likelihood of a screen or a pick.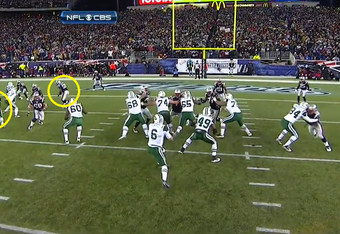 That's exactly what happens, as Guyton is left to wade through a lot of traffic—two cornerbacks and two wide receivers, to be exact.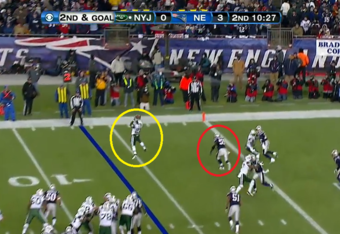 By the time he gets to Tomlinson, it's too late.
Simms on the call: 
That football was thrown accurately, right on the spot by Mark Sanchez. And the timing—the formation to the left is stacked receivers. They release [and] the defender cannot get through there. Gary Guyton had [Tomlinson] in man-to-man coverage, and he can't fight his way through the release of both outside receivers. When he gets there, [it's] too late. ...Well-designed, well-executed.
That's one well-designed play and one solid read thus far. Let's look at an example of both here.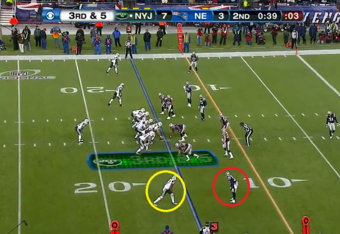 On 3rd-and-5, the Jets line up with three wide receivers. Braylon Edwards flanks the set outside the numbers, with McCourty playing off by four yards.
It's a three-step drop by Sanchez, who reads safety Brandon Meriweather at the snap. Watching Meriweather as he drops and watching the coverage unfold, Sanchez identifies man coverage.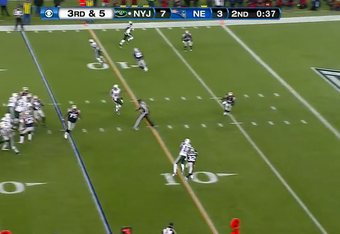 At that point, the decision is easy. He throws to his first read, Braylon Edwards, who is running Sanchez's favorite route to throw: the inside slant.
Edwards does a great job of getting inside leverage, making sure that he's the only one who can get to the football.
The timing of the throw, and the hole into which Sanchez is throwing, almost guarantees a first down. Edwards' run-after-catch ability goes on full display, though, and he takes it in for a touchdown. Even if the play hadn't scored, though, it would have been yet another example of a good read made easier by taking the pressure off Sanchez on a quick drop and playing to his strengths with an easy route.
Simms on the call:
We keep talking about matchups. That's what you want to do. That time, Mark Sanchez comes up to the line of scrimmage. He has [McCourty] to the outside. And look at the space this time compared to what you're used to seeing.
Make no mistake; Sanchez makes plenty of his own dazzling throws. In that very same game against the Patriots, Sanchez made two brilliant throws to Braylon Edwards (the 2:20 mark in the video) and Santonio Holmes (6:44).
But he had a lot of help from an efficient running game and a game plan that was designed to play to his strengths and make his job a lot easier.
Erik Frenz is the AFC East lead blogger for Bleacher Report. Be sure to follow Erik on Twitter and "like" the AFC East blog on Facebook to keep up with all the updates.