Drew Brees and New Orleans Saints Reportedly Agree on Contract Extension
July 13, 2012

The New Orleans Saints took far too long to sign Drew Brees to a contract extension, but the two sides have reportedly struck a deal.
UPDATE: Friday, July 13 at 3:00 p.m. EST by Adam Wells
The Saints did what they had to do in order to get a deal with Brees done, and they will be paying a lot to keep their franchise quarterback happy. 
According to Mike Florio of Pro Football Talk, Brees' $40 million salary in 2012 is split between a massive signing bonus and, all things considered, a small base salary. 
Brees, per a source with knowledge of the deal, will receive a $37 million signing bonus and a $3 million base salary in 2012.  The full signing bonus will be paid out within the next six months.

The $40 million paid in 2012 is fully guaranteed.  For now, $20 million beyond 2012 is guaranteed for injury only.

--snip--

In all, he'll receive $40 million this year, $10 million in 2013, $11 million in 2014, $19 million in 2015, and $20 million in 2016.
Basically, Brees is going to get a lot of money to play quarterback for the New Orleans Saints in 2012, a lot less, but still more than enough, during the remainder of the contract. 
Looking at things from the outside, this looks like one of the most unique deals in the history of the NFL. At least it is done and no one has to worry about a holdout in training camp. 
--------------END OF UPDATE------------------
According to ESPN's Chris Mortensen, Brees and the Saints have agreed to a five-year deal worth $100 million ($60 million guaranteed).
,@DrewBrees, #Saints reach agreement on 5 yr, $100-mill deal, including $40 mill in year 1; $60 mill guaranteed in 1st 3 yr. More on #ESPN

— Chris Mortensen (@mortreport) July 13, 2012
Deal is Done!Love you, Who Dat Nation. See you soon!

— Drew Brees (@drewbrees) July 13, 2012
Brees is the unquestioned leader in New Orleans, but a standoff between the star quarterback and the Saints front office could ultimately be a huge problem for this team.
The Saints will play this entire season without head coach Sean Payton after he was suspended by the league for his role in the bounty scandal. Assistant coach Joe Vitt, who will act in place of Payton, is suspended for the first six games of the season.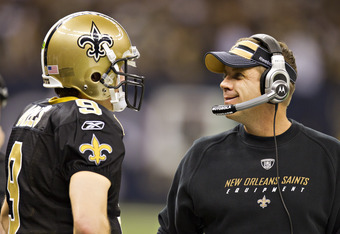 Wesley Hitt/Getty Images
Jonathan Vilma, the team's defensive captain, is also suspended for the entire season due to his role in the "Bountygate" scandal. 
With Vilma out for the year, it goes without saying that the Saints currently lack any real leadership outside of Drew Brees.
The front office's reservations regarding guaranteed money and contract length were not unfounded, but given the Saints' current situation and what Brees has done for the franchise, the length of time it took for this deal to get done is surprising to say the least. 
New Orleans has been to the postseason four times since Brees arrived six years ago, including the franchise's only Super Bowl win in 2010. 
Prior to No. 9's arrival, the Saints made the postseason only five times (with one win) in the franchise's history.
Brees is the one player they could not afford to have absent in the locker room with the cloud of controversy hanging overhead. The All-Pro signal caller has already missed too much time as it is.
His presence will make a huge difference, but Saints fans have to hope the team can turn things around quickly.