LeBron James: More Love Than Hate Since the Decision?
June 17, 2012

Ronald Martinez/Getty Images
No matter how much you supposedly hate him, deep down there has to be some love for LeBron James.
How could you not want to see him win?
James has been through a lot since the infamous decision to leave Cleveland.
But since the waters have settled, in hindsight many are saying: who could blame him for leaving Cleveland?  Besides, considering the way he announced his departure, what did he really do wrong?
Switched jobs?  Left one company for another? 
That is simply called the workforce, whether we are talking professional sports or not. 
As good as this Miami Heat team is on paper, they've had a rough time the past two years.  The Heat lost last year's Finals, and this year's sure aren't a given.
Trials and tribulations at their finest.
Of course, people go through real daily-life trials like homelessness, unemployment, eviction and foreclosure.
Those are real hardships compared to what LeBron is going through in his life, but lest we forget, his childhood wasn't perfect.
We can't keep judging athletes off of what is in their bank accounts, as opposed to what is in their hearts and minds.     
Solely observing James as he chases an NBA title he still may not get, it's clear the road has been rough.
Constant criticism, all born out of wanting James to fail, is amazing.
Too many people have said in the everyday world, "Oh I just don't like the guy," with no apparent real reasoning.
In reality, James, seems like a big, goofy kid that has matured before basketball fans' eyes.  James may or may not have learned from his mistakes.  Some of them may not have seemed so bad to him at the time because, in all actuality, they were personal decisions for personal goals.
Shouldn't we all have the right to make those decisions—and don't we all make mistakes?
Even if it is just for show and the camera, don't you respect him for reading actual books before games, as opposed to a Kindle Reader?  That means he took the time to actually pick what he's reading, or at least buy something suggested to him.
And what is he reading anyway?
The arguments against James come from the fact that he left Cleveland in never-before-seen dramatic fashion.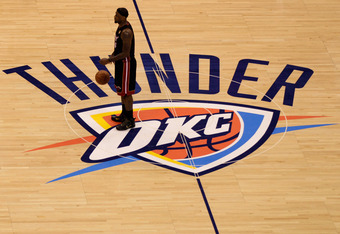 Mike Ehrmann/Getty Images
Consider Michael Jordan.  The only argument that seems to continuously come up is that Jordan never teamed up with anybody from the so-called rival teams.
Let's put that to rest.  Mike had Scottie and Phil, and these are two drastically different eras in basketball.
Magic Johnson and Larry Bird didn't jump ship, but the reality is, the majority of youthful basketball fans probably never saw Magic or Bird play and caught the tail-end of Jordan's career.
Speaking of stars leaving to chase rings, didn't Charles Barkley leave Philadelphia for Phoenix in a ring-chase that was never successful?
Karl Malone played for the Lakers in a decision that wasn't well-received, but well-respected.  He also chased a ring that he ultimately never received.
On the note of Malone, future Hall of Fame inductee Gary Payton didn't hoist the trophy in that failed Lakers experiment either.  It wasn't until his final year in the league with Miami that he finally got his ring.
Give James some credit.  This whole Finals fiasco isn't easy.  LeBron learned that when the San Antonio Spurs swept his Cleveland Cavaliers with ease in the 2007 Finals.
So from recent memory, this isn't James' second dance in the Finals—it's his third. 
Both loudly and quietly, people are really rooting for James even with the seeming love-fest for Kevin Durant and the Oklahoma City Thunder.
Third time is the charm, and if those books James reads contain anything remotely close to "The Secret," then the Heat should be just fine this year even if it takes a seventh game in Oklahoma.
That would simply add irony and drama to the story.
No matter the outcome, some of us are really rooting for you, LeBron.