Are the Seattle Seahawks Finally Done Rebuilding This Year?
June 14, 2012

Otto Greule Jr/Getty Images
Rebuilding is the term given to a team that is unable to compete but is putting the pieces in place for the future. Recently, the Seahawks have fit that mold perfectly.
The Seahawks have done many things recently that have shown they are in the rebuilding phase. The first and most blatant was the hiring of a new head coach and GM in Pete Carroll and John Schneider, respectively. But after the new staff was in, they continued with changing the quarterback of several years (Matt Hasselbeck), trading for a make-or-break star (Marshawn Lynch) and replacing most positions through the draft.
But after three years without a winning season, the Seahawks are ready to take the next step out of rebuilding mode and into contention.
They are showing all the signs that would indicate they are ready to compete in this league.
Built Strong Base on Defense
Defense wins championships and that is not lost on Pete Carroll, a former defensive coach. He started with Marcus Trufant at secondary and used the draft to produce one of the best, if not the best defensive back corps in the NFL. With three Pro Bowlers and Richard Sherman showing positive signs, quarterbacks are going to have trouble with this team.
But Quarterbacks may not have to worry about that if they can't get the ball away. And this up-and-coming defensive front may cause those difficulties.
They had a decent base in Chris Clemons and Leroy Hill, but the draft has made this team much better.
The first move that took them in the right direction was acquiring KJ Wright in a later round. And this year, they got Bruce Irvin, who could end up being a force on the field if he can stay out of trouble. With fellow rookie Bobby Wagner looking good, the Seahawks' breakout from mediocrity has started with the defense.
Spent Little on High-Ceiling Players
The Seahawks have been able to acquire great young players without paying too much from their pockets, or with their draft picks. Pete Carroll has been an expert when deciding who to pick in the draft, especially in the later rounds. He has used his recruiting past to form his own Billy Bean-esque system—taking the best player for the system and the price rather than just the best available.
His notable mid- to late-round acquisitions have been KJ Wright (fourth round), Richard Sherman (fifth), Kam Chancellor (fifth) and the genius pickup of Doug Baldwin after he went undrafted.
The major characteristic of a competitor is that they can do the most with the least. With these draft picks, and the trade of a fifth-round pick for star running back Marshawn Lynch, Carroll seems to be steering the 'Hawks in the right direction.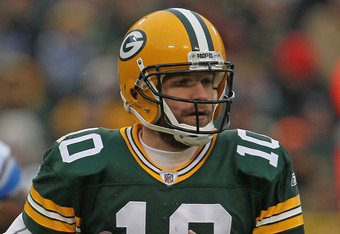 Jonathan Daniel/Getty Images
Secured a Franchise Quarterback
The final step in completing the rebuilding phase is finding the face of your franchise at the most important position in professional sports. The Seahawks (and their fans) hope they have found that in Matt Flynn.
Flynn has only started two games, but in those games he broke several team records on a team that has a history of star quarterback play (Bart Starr, Brett Favre and Rodgers). His most recent game against the Lions in Week 17 marked one of the best performances in recent memory, racking up six touchdowns and 480 yards.
Carroll also drafted Russell Wilson in case Flynn doesn't pan out. Wilson transferred from NC State to Wisconsin and made an almost perfect transition. He could be a future star, and it's always smart to have a good backup.
The Seahawks have been rebuilding for a few years now, but this year they will finally break out of it. It's time for them to start contending.