NBA Draft 2012: A Closer Look at Kansas' Thomas Robinson
June 14, 2012

Dilip Vishwanat/Getty Images
There may be no greater—or more inspirational—story in college hoops than that of Kansas' star big man Thomas Robinson.
Midway through his sophomore year for the Jayhawks, crisis struck him like no other.
His middle-aged mother Lisa died of a sudden heart-attack. Both of his grandparents also passed away within a 25-day span before this incident.
The only true family remaining for the 6'9", 240-pounder were his seven-year-old sister Jayla and older brother Jamah.
But rather than letting this tragedy destroy his dream of eventually making it to the NBA, he used it as motivation. He was now playing for more than just his love for the sport; he was playing to honor his family.
In fact, just two days after his mother's funeral, Robinson returned to action for a rivalry matchup versus the Kansas State Wildcats.
Backing up eventual lottery picks Marcus and Markieff Morris at the time, he entered the game early in the first half to a standing ovation from the sellout crowd of 16,300.
Moments later, he got the ball at point-blank range and missed an uncontested dunk. He proceeded to miss his next two layups, commit a pair of quick fouls and turn the ball over all within the next few minutes.
Then it all started to click.
Robinson connected on seven of his final eight shots to score 17 points in the contest—nearly 10 more than his average. He also pulled down a game-high nine boards.
Kansas blew out their instate foes 90-66. When the final buzzer sounded, Robinson shared emotion-filled hugs with a countless number of the people in attendance. From teammates to the opposing players and from the coaching staff to the spectators, everyone was supporting him.
It was a precious moment; one he will likely cherish for the rest of his life.
"I know my mother wouldn't want me to sit around crying forever," he told reporters. "Coming into this game, I felt that I owed it to all the fans and all the people across the country that have helped me get through this hard time."
And he has played with this same intensity and passion that he demonstrated in this performance ever since.
Fast-forward now to his junior season. With the Morris twins in the NBA, Robinson was given a prime opportunity to earn a lot of playing time and turn himself into a household name.
And he sure made the most of it.
T-Rob, as they call him, averaged 17.7 points and 11.9 rebounds on over 50 percent shooting from the floor. He was named a consensus All-American and led Kansas to a regular season title and the National Championship Game.
Now he finds himself in a position to be selected in the top five in the draft on June 28.
One area of his game that should translate seamlessly to the next level is his ability to hit the glass. Given his chiseled frame, elite athleticism and never-ending motor, there is no reason to doubt that Robinson will be able to rebound with the best of them in the NBA.
An executive recently compared him favorably to Denver forward Kenneth Faried—the 22nd pick in last year's draft who had a very successful rookie season with the Nuggets.
"Thomas Robinson is the same kind of guy: undersized, big motor, but more skilled," he explained to Sam Amick of Sports Illustrated. "Maybe you put him in the star category."
Robinson also has a reportedly great work ethic, as can be seen from the improvements he has made on a year-to-year basis. His free-throw percentage, for one, went up from an abysmal 39.5 percent to a mediocre 51.0 percent to a very respectable 68.2 percent over the course of his career at Kansas.
There are some concerns, however, that he relies too much on his athleticism. It works at the collegiate level where he is a man among boys, but he won't be able to depend on that as much in the NBA. Instead, he needs to further develop his post moves and continue to improve his jump shot.
Some have also called into question his effort defensively. Despite his physical tools, he has seemed lackadaisical at times defending the post and is harmless as a shot blocker, swatting away less than one attempt per game.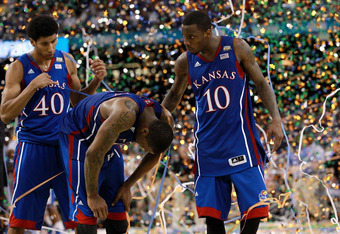 Ronald Martinez/Getty Images
The best scenarios for Robinson would be to end up in either Charlotte, Washington or Portland.
Despite the mess that the Bobcats' franchise is currently in, their second pick could give their rebuilding project a nice boost. The worst-ranked offensive team in the league last year could desperately use more points and Robinson has proven that he can put them up. He is also a perfect fit next to the defensive-minded Bismack Biyombo.
The Wizards have some decent young talent, highlighted by stud point guard John Wall. They too struggled to put points on the board and have a need for a big man.
"They made me feel like I was already part of the team," Robinson said of the team's coaching staff after a workout with them on Wednesday afternoon.
Finally, the Trailblazers present a very intriguing situation if he falls to No. 6. Playing alongside a dominant post presence in LaMarcus Aldridge would allow him to not face double teams—something that he struggled with mightily in his sole season of facing them with the Jayhawks last year.
But regardless of where he ends up, the sky is the limit for this kid. Don't believe me? Just ask former teammate Markieff Morris.
"He has the speed of Kobe," he raved to ESPN last November. "And a body like LeBron's."
Okay, okay. Perhaps that is pushing it a little bit. But he does have star potential if he stays determined and is able to work out some of his flaws.
Time will tell.