Fantasy Football 2012: Musts, Trusts and Busts Quarterback Edition
June 13, 2012

Ronald Martinez/Getty Images
With the whispers of NFL training camps comes the assemblage of the world's fantasy football "gurus." Men and women who work tirelessly as they tediously analyze team's additions and shortcomings in preparation for the season and the defining moments for each player and position.
This version of Musts, Trusts and Busts is going to focus solely on the structure in which you should approach the quarterback position, which players you should target and at what time you should pull the trigger.
Though I do hesitate to provide my opponents with information of advanced strategies and format structure, it would strongly benefit you to take the M.T.B. formula into consideration come draft day.
The time is now for draft preparation, as I have logged over 50 mock drafts thus far this off-season. All the while with the Musts, Trusts and Busts pre-camp draft formula in mind.
Understand this going into your individuals drafts: If you miss out on the Musts I have listed below, you will be able to address other positions with the understanding that there will be a large quantity of Trusts being available in the middle rounds of your draft.
This article was written with the basic league principles in mind.
10-12 Teams
Non-PPR
15 Man Roster (QB,WR,WR,WR,RB,RB,TE)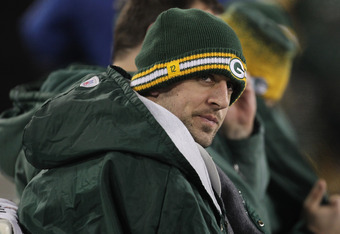 Jonathan Daniel/Getty Images
Musts:
Projected Draft Position: 1st Overall - 8th Overall.
I'm just going to say this now. If healthy, Aaron Rodgers will be fantasy football's best quarterback for the next five to six years. He is a legitimate dual threat at the position and has a wide receiving corps that even Joe Montana would be envious of.
Projected Draft Position: Round 1 - Round 2.
As is the case for Brees, Tom Brady most likely won't be available past the first round in most fantasy football drafts. As far as I'm concerned, especially with the emergence of Gronkowski and Hernandez, only Brady rivals the number one ranking of Rodgers in 2012.
Projected Draft Position: Round 1 - Round 2.
Year in and year out Brees is nearly a lock for 4,000+ yards and 30+ touchdowns. The typical draft won't have Brees falling out of the first round.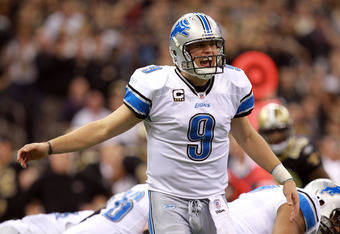 Ronald Martinez/Getty Images
Projected Draft Position: Round 1 - Round 3.
Matthew Stafford has enough talent and charisma to be the next face of the NFL. At 24-years-old, Stafford will easily rank among the league's best quarterbacks for the next decade.
Cam Newton - Carolina
Projected Draft Position: Round 1 - Round 3.
I'll be honest, by the time that I decided to jump onto the Cam Newton band wagon, it was already full. The world loves Cam Newton, and why not? The young Carolina gunslinger turned in one of the greatest rookie campaigns of all-time. The Panthers' backfield is absolutely STACKED with the likes of Jonathan Stewart, DeAngelo Williams and Mike Tolbert. It's virtually a pick-your-poison type situation down in Carolina right now.
Trusts:
Projected Draft Position: Round 4 - Round 6.
I believe that Vick still has the dual threat ability to carry your fantasy football team. Like Matt Ryan, I believe that depending on where Vick falls to you could potentially end up being the steal of your draft. Vick is the field general of one of the league's most potent offenses and–if healthy–could carry you to your leagues title.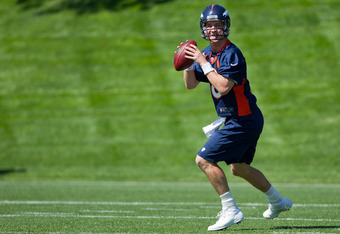 Justin Edmonds/Getty Images
Projected Draft Position: Round 4 - Round 6.
Manning is one of the league's greatest question marks. Though I believe he is still one of the game's elite signal callers, Manning will most likely be drafted much earlier than he should be. Denver's acquisition of Manning additionally make Eric Decker and Demaryius Thomas legitimate fantasy football options at wide receiver.
Tony Romo - Dallas
Projected Draft Position: Round 3 - Round 6
Aside from Jerry Jones, I may be the last person on earth that truly believes that Tony Romo is capable of leading his team to the Super Bowl. With weapons like Dez Bryant, Miles Austin, Jason Witten, DeMarco Murray and  Felix Jones, I'm pretty sure that even Drew Henson could. Unfortunately, the injury gods haven't been very kind to the Dallas Cowboys of late.
Matt Ryan - Atlanta
Projected Draft Position: Round 6 - Round 8.
Matt Ryan is a legitimate QB1 in all formats, and more often than not is my go-to-guy if I missed on the quarterbacks listed above as Musts. Going into only his second season, Julio Jones is already one of the most talented wide receivers in the league and Roddy White has already arrived as one of the league's elite. The departure of Mike Mularkey should mean a more prominent down field passing attack, something Atlanta fans were begging for in 2012. Ryan is a steal if available after the seventh round.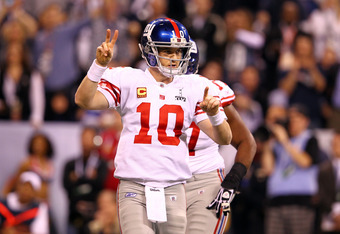 Al Bello/Getty Images
Projected Draft Position: Round 6 - Round 8.
I project Manning somewhere between the sixth and eighth rounds. But you can be sure that there will be some people who have completely bought into the fact that Eli should no longer be referenced as Peyton Manning's little brother and will jump on him early. Victor Cruz is no one year wonder and Hakeem Nicks is worthy of WR1 status. The departure of Manningham won't hurt Manning's status, especially with the draft selection of Ruben Randle.
Ben Roethlisberger - Pittsburgh
Projected Draft Position: Round 8 - Round 11.
So long as Roethlisberger has Mike Wallace and Antonio Brown, he will remain a low end QB1-QB2 option. Assuming Isaac Redman can pick up Mendenhall's slack, I believe that you can Trust Roethlisberger in 2012.
Projected Draft Position: Round 8 - Round 11
Prior to breaking his thumb, Cutler was en route to having a highly productive season. Enter Brandon Marshall and Alshon Jeffery.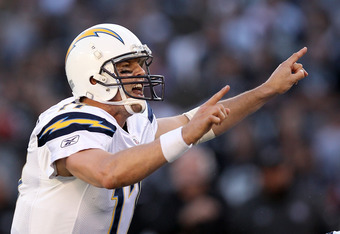 Ezra Shaw/Getty Images
Busts:
Projected Draft Position: Round 5 - Round 9.
Take the WR corps of Eddie Royal, Robert Meachem and Malcolm Floyd and combine that with an aging Antonio Gates and that doesn't bode well for the former QB1. Most people who went running back/running back early will most likely reach for Rivers out of desperation somewhere between rounds four and six.
Alex Smith - San Francisco
Projected Draft Position: Round 13 - Undrafted.
There's no denying that Jim Harbaugh was genuinely interested in the services of four -time NFL MVP Peyton Manning. There's a reason for that, his name is Alex Smith. 
Matt Flynn - Seattle
Projected Draft Position: Undrafted
Greg Jennings, Jordy Nelson, Donald Driver, Randall Cobb, James Jones, and Jermichael Finley. -Players the Seattle Seahawks don't have listed on their 53 man roster.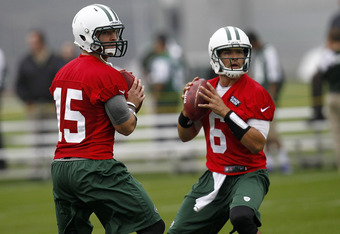 Jeff Zelevansky/Getty Images
Projected Draft Position: Round 13 - Undrafted.
New Jets offensive coordinator Tony Sparano has been given the green light to immediately implement his run heavy offense in the big apple. If that doesn't speak volumes as to Sanchez's true place in the franchise you better believe that Mike Tannenbaum's decision to trade for Tim Tebow does.  
Sleepers:
Robert Griffin III - Washington
Projected Draft Position: Round 9 - Round 15.
The Washington Redskins offense will completely revolve around RG3 in 2012. With speedy veterans in Santana Moss and Pierre Garçon on site to assist the former Heisman Trophy award winners' acclimation process, you can be sure that there will be weeks that Griffin III puts up big numbers.
Josh Freeman - Tampa Bay
Projected Draft Position: Round 12 - Undrafted.
New Buccaneers offensive coordinator Mike Sullivan is already praising Freeman for the intangibles the young fourth-year quarterback possesses. The arrival of Vincent Jackson signifies Freeman's first legit WR1 target. If the Doug Martin/LeGarrete Blount combination at running back is successful in 2012, the sky is the limit for this offense. 
Kevin Kolb - Arizona
Projected Draft Position: Round 13 - Undrafted.
Here we go again. I'm going to be honest; I've listed Kolb as a sleeper in each of the past two seasons. As far as I'm concerned, 2012 is a make or break year for Kolb, I'm fairly confident that Arizona brass feel the same way. All-World wide receiver Larry Fitzgerald and stud rookie Michael Floyd is arguably the best wide receiver duo in the West.
Follow me on Twitter @FI2ANCHISE for all your fantasy football needs.