Euro 2012: Portugal vs. Denmark, Netherlands vs. Germany Previews & Predictions
June 13, 2012

Joern Pollex/Getty Images
The second round of Group B is set to take place today, and will feature matches between Portugal and Denmark as well as the Netherlands and Germany from Lviv and Kharkiv respectively.
With Portugal and the Dutch squads both facing elimination in their fixtures, both matches promise to be entertaining.
Let's take a look at each matchup, and break them down individually.
Portugal vs. Denmark
The first game of the day will pit the Portuguese and Danish sides against one another.
While Denmark is riding into this match on a high note after pulling off what has been the biggest upset of the tournament thus far when they shocked the Netherlands 1-0, Portugal is looking to stave off elimination after its opening-game loss to an incredibly talented German side on Saturday.
Despite winning their first match against Holland four days ago, the Danish team knows that they'll still have to look to make improvements if they're to clinch a spot in the knockout round of the UEFA European Championship for only the second time since their magical run in 1992.
Denmark will look to defenders Daniel Agger, Lars Jacobsen and Simon Poulsen to once again shut down a potent attack, one that includes Cristiano Ronaldo and Nani this time around.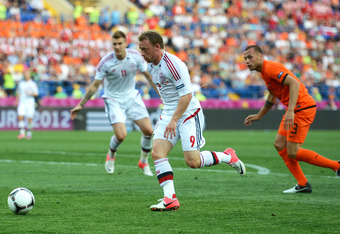 Lars Baron/Getty Images
Denmark will also need a better performance from Nicklas Bendtner up front if they hope to pull off a second consecutive victory, as relying on Michael Krohn-Dehli to score his second goal in as many matches isn't a recipe for success.
As for Portugal, all eyes will once again be on their superstar forward, Cristiano Ronaldo.
In order for the Portuguese to pull out a win and put themselves right back in the hunt for one of group B's two tickets to the knockout phase, they'll need Ronaldo's supporting cast, specifically Nani and Helder Postiga, to step up and help create opportunities for their captain.
If their defenders, led by the veteran Pepe, can stand tall and keep the Danish attack from scoring, their midfield and forwards should be more than capable of creating space, opportunities and eventually a goal.
Prediction: Portugal 1, Denmark 0
Denmark may have played a decent game against the Dutch, but the win was more a product of their opponents' inability to bury their opportunities. Don't expect lightning to strike twice. Portugal dominates possession and lands the lone goal of the match.
Netherlands vs. Germany
Tomorrow's match between the Netherlands and Germany is bound to be one of the best contests of the group stage.
Not only do these countries despise each other, but they're also two of the most offensively gifted sides in the world, and both place in the top-five teams in the world according to the most recent edition of the FIFA world rankings.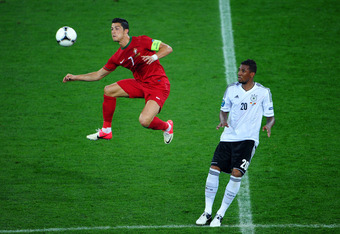 Laurence Griffiths/Getty Images
Throw in the fact that this is a must-win match for Holland, and you've got a recipe for one intense game of football that borders on being must-see TV.
For the Germans, the primary focus will be on sustaining the momentum they built in their opening-match victory against the Portuguese.
Having players up front like Lukas Podolski, Thomas Muller, Mest Ozil and Mario Gomez (along with Miroslav Klose coming off the bench) means the Germans will never struggle to create opportunities on the offensive side of the pitch.
The key to the match against the Dutch will be to try and slow down an attack that is, arguably, as talented as their own.
As for the Dutch, it will be all about working as a team.
Even with the likes of Arjen Robben, Robin van Persie and Wesley Sneijder up front (and what could be the most dangerous reserves in the tournament in Klaas-Jan Huntelaar and Rafael van der Vaart), the Dutch were not able to tally a goal against Denmark.
Much of this can be attributed to communication and team work.
Nearly every time players like Ibrahim Afellay, or Arjen Robben would touch the ball, they would look to shoot first, pass second, which really stunted momentum for Holland.
The inability of both van Persie and Robben to finish, will also need to turn around in a hurry if the Dutch are to escape elimination and keep their hopes of reaching a sixth consecutive knockout stage in major international tournaments alive.
Prediction: Netherlands 2, Germany 1
Though Germany possesses a phenomenal attack and will in all likelihood score at least one goal, the Dutch have their backs up against a wall and are simply too talented to be eliminated after just two matches. Look for Holland to come out on top in this one.