Euro 2012 Results: Teams That Must Improve in Order to Avoid Elimination
June 13, 2012

Lars Baron/Getty Images
After the first set of matches, some countries are already in trouble.
Big trouble. 
Not only were opening-match defeats killer because they put certain countries at the bottom of their group; they are especially bad when you consider the new Euro 2012 rules.
Most importantly, if two or more countries finish the group stage tied in points, the first tiebreaker is now head-to-head results, which changes everything and, for the most part, kills the importance of goal differential. 
Let's take a closer look at what teams are most affected by this, and what teams must see better results in the coming week. 
For a full look at all results and all the updated tables, click here (via goal.com). 
Netherlands (Group B)
Because of the rule changes, the Dutch are in even worse trouble than I ever thought. 
Simply put, if Netherlands lose to Germany—yes, arguably the best team in the world, that Germany—and Portugal fail to beat Denmark, the Dutch are officially eliminated from Euro 2012.
Bam. Just like that.
If the Dutch lose to Germany, but Portugal beats Denmark, they will have to hope for a three-way tie and a solid goal differential to advance. It would be possible, but not an ideal situation. 
If the Dutch draw with the Germans, and Denmark manages to tie or beat Portugal, Netherlands will, again, be eliminated. 
Not good.
If Holland wants to feel safe for at least another few days, they will have to beat the Germans, and if they want that to happen, Robin van Persie and Arjen Robben are really going to have to step up their game.
Missing glorious chances in the box and ignoring teammates on the break aren't things that are going to cut it. 
Croatia (Group C)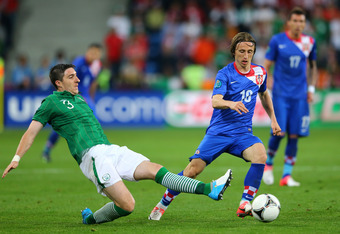 Christof Koepsel/Getty Images
After their win over Ireland, the Croatians are in a good spot at the top of Group C. However, the two countries chasing Croatia are the two they still have to face. 
Croatia may be sitting pretty right now, but if they don't at least draw against both Spain and Italy, they will likely be eliminated.
One loss and say, one tie, and the Croatians are also likely out. 
For a team that looked susceptible on defense against Ireland and simply benefited from Irish mistakes on the attack, Croatia will need to be a lot better in the next two matches.
Ukraine (Group D)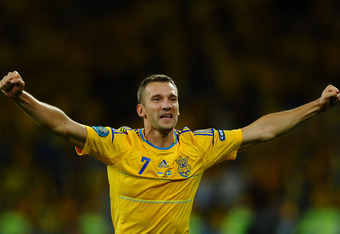 Laurence Griffiths/Getty Images
After a win over Sweden, Ukraine is in the exact same position as Croatia. They lead the group, but won't be able to afford many slip-ups against France and England, two of the tournament's best teams.
What's worse, at least for Ukraine, is that they play France next, meaning they are the only squad in the group that will have to play England with Wayne Rooney. 
It was an impressive comeback win for the hosts against Sweden, but it's going to take a little bit more magic for them to advance to the quarters.