Kurt Busch vs. David Reutimann: Who Would You Pick to Drive Your Race Car?
June 12, 2012

Jamie Squire/Getty Images
James Finch has made his bed. Hopefully, he'll sleep well in it.
The Phoenix Racing team owner announced after his meeting today with driver Kurt Busch that he and the controversial 2004 Sprint Cup champ will "go racing together" this weekend at Michigan and for the foreseeable future.
Finch tweeted the following shortly after making the announcement:
We have met with Kurt. At the end of the day, we are racers so we're going racing together with Kurt and the No. 51 Phoenix Racing Chevrolet.

We know adjustments have to be made but how we fix that is between Kurt and myself. We're going to go to the track, work hard, race hard and work on trying to attract a sponsor and we're going to do that together.
The decision comes eight days after NASCAR suspended Busch for comments made towards a reporter after the NASCAR Nationwide Series race at Dover.
Busch missed last weekend's racing action, but with the suspension lifted today, he will take part in this weekend's festivities at the two-mile oval in Brooklyn, Mich.
Had Finch elected to can Busch, David Reutimann likely would have filled the empty seat.
Fans of Reutimann, who filled in for Busch at Pocono and earned a respectable 21st-place effort, were less than pleased and voiced their disapproval on Reutimann's Facebook page.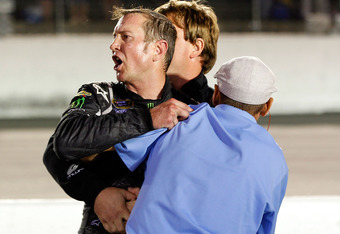 Geoff Burke/Getty Images
Naturally, many fans from the Reutimann camp were quick to point out that Finch is missing out on their driver's classy demeanor and argued it was Reutimann, not Busch, who deserves a second chance in the No. 51.
So was Finch's move the correct one, or do Reutimann's fans have a point?
Maybe both.
Without doubt, Reutimann is far and away the classier of the two drivers, at least when the cameras are on.
Busch's clash with Speed reporter Bob Pockrass at Dover was his second encounter with a media member in less than eight months. Busch had a much-discussed run-in with ESPN's Dr. Jerry Punch last fall at Homestead, which was captured by an amateur videographer.
And while Busch has also been known for his fair share of radio blow-ups, Reutimann's quiet personality has earned him a solid fanbase.
But at the end of the day, NASCAR is a business. And in business, the only thing that matters is results.
Busch has them. Reutimann does not.
For his career, Busch has 24 Sprint Cup wins, 88 top fives and 170 top 10s to go along with an elusive Sprint Cup championship back in 2004.
Reutimann's stat line is far less impressive: two Sprint Cup wins, 12 top fives, 26 top 10s and a best points finish of 16th.
While that may not be a fair comparison, seeing as how Reutimann has six less seasons of Sprint Cup experience, when we compare the stats from the two since the 2008 season (both drivers have run every race since that point, with the exception of Busch at Pocono), it looks like this:
- Busch has seven wins, 32 top fives and 64 top 10s to go along with three Chase berths.
- Reutimann has two wins, 11 top fives and 26 top 10s to go along with zero Chase berths.
Sure, the argument could be made that Busch only achieved such high results because he was racing for the high-powered Penske organization while Reutimann was going through the trials of racing with the start-up Michael Waltrip Racing organization.
But considering the performance of Busch's car from 2011 has decreased (sixth in the standings in 2011 after 13 races, 25th in 2012) while Reutimann's old car has achieved greater results (23rd in 2011 after 13 races, ninth in 2012), the stats pretty much speak for themselves.
Busch has also achieved something only one other driver has managed to do in Phoenix Racing's history, which is make the team relevant.
While Busch's lone top 10 and a 27th-place standing may not seem all that impressive, Busch's results are not indicative of his performance in 2012.
In fact, several times this season Busch has had the No. 51 up towards the front when problems struck, including wrecks at Talladega and Darlington in back-to-back weeks when Busch was running in the top 10.
The only other time Phoenix Racing received this much attention was when Brad Keselowski won at Talladega back in 2009 driving the team's No. 09 car.
But the question that remains to be answered is who would you rather have driving your race car—Kurt Busch or David Reutimann?
If it's an upbeat attitude you're looking for, Reutimann fits the bill. If it's results and exposure you desire, Busch is your man.
Who would you pick?