Sizing Up the Washington Redskins' Running Back Competition
June 12, 2012

Dilip Vishwanat/Getty Images
The Washington Redskins started their lone mandatory mini-camp today, and approximately 97.64 percent of the eyes in Ashburn are/were surely trained on the team's Roman-numeraled franchise quarterback.
Really, though, there's only so much to see when it comes to Robert Griffin III. He's already won the starting job, we've already seen him practice a dozen times and he isn't facing anything overly complex or any sort of pass rush.
The real drama—if there is any drama at all in June—is where the starting battles are beginning to get heated. Looking specifically at running back, for example, the Redskins have four very talented men who enter mini-camp with everything on the line.
What happens this week could determine who enters training camp and the preseason as the No. 1 guy in a backfield that will inevitably be productive again in 2012.
Here's how things are shaping up behind RG3.
The elder statesman: Tim Hightower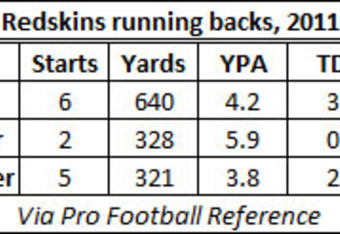 What you need to know: The "veteran" member of the Washington backfield has just 523 career carries and is just 26 years old. Of course, that's still old enough to experience a running back mid-life crisis, so don't be surprised if Hightower takes the field at training camp gracing Michael Johnson-style gold shoes.
Why he could win the job: He was very impressive during training camp last year and is a stellar blocker.
What's getting in his way: He tore his ACL in October after averaging just 3.8 yards per carry in five starts. He's yet to be medically cleared to return.
The flavor of the month: Roy Helu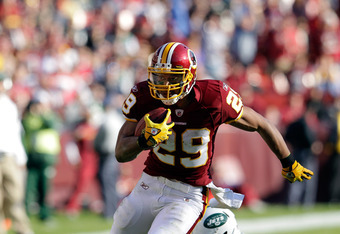 Rob Carr/Getty Images
What you need to know: As a rookie in 2011, the fourth-round pick out of Nebraska had three straight 100-yard games and led the team in rushing by a 312-yard margin, despite starting only five times.
Why he could win the job: Burst onto the scene with 436 yards from scrimmage in his first three games after permanently relieving Ryan Torain in November. He's also undoubtedly the fastest member of this group.
What's getting in his way: Ankle and toe injuries derailed what could have been a much stronger rookie campaign and also paved an opportunity for the next man on this list. 
The other flavor of the month: Evan Royster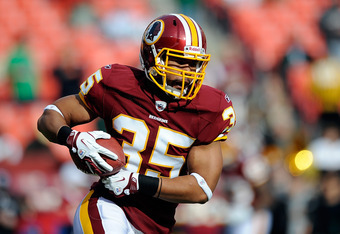 Patrick McDermott/Getty Images
What you need to know: As a rookie in 2011, the sixth-round pick out of Penn State went over 100 yards in both of his starts, averaging a team-high 5.9 yards per carry in limited action. 
Why he could win the job: That average is something that Mike and Kyle Shanahan surely love. Plus, they like to ride with whoever has the hottest hand, and that technically still belongs to Royster. 
What's getting in his way: A lack of experience in games that matter. He looked superb in 2011, but he didn't start getting action until the pressure was off against somewhat weaker defenses in Minnesota and Philadelphia.
The dark, dark, dark horse: Alfred Morris
What you need to know: Even though the 'Skins appeared to hit on both of their late-round running back picks of 2011, they spent another sixth-round selection this year on Morris, who hails from Florida Atlantic. 
Why he could win the job: They've already been giving him additional practice reps, according to the Washington Times, and each of the men ahead of him on the depth chart have proven to be vulnerable to injuries. Besides, the Shanahans won't shy away from giving another late-round rookie a shot. If anything, he could make the team as a fullback.
What's getting in his way: Lack of experience, lack of speed and the three men ahead of him on the depth chart. 
My thoughts: The sample size is too small for the staff to run with Royster, and it's too crowded for Morris right now. The team will probably hint that the veteran Hightower has the edge, but I think they'd prefer to see Helu emerge again. 
It's doubtful that everyone stays healthy anyway, so the 'Skins are certainly happy to have several backs capable of carrying much of the load if needed. 
This is a position that probably won't be secure all year, which is a good thing. It'll keep the fire lit under several backs who know that they could become stars in a system like this one.