Carolina Panthers: Jonathan Stewart, Jeff Otah Highlight 2013 Free-Agent Dilemma
June 12, 2012
Ronald Martinez/Getty Images
The Carolina Panthers didn't do much in free agency other than bringing in Mike Tolbert, the former San Diego Chargers fullback, to add to an already crowded backfield containing DeAngelo Williams and Jonathan Stewart. 
However, in 2013, they have two major decisions to make regarding key players. 
Right Tackle Jeff Otah
Right tackle Jeff Otah is entering the final year of a five-year, $14.33 million deal he signed when he was drafted. The Panthers selected Otah with the 19th-overall pick in the 2008 NFL draft out of Pittsburgh. While he is a very good player, he just cannot stay healthy. Landing on injured reserve the past three seasons, he has missed 31 of his last 35 games. 
Head coach Ron Rivera stated that Otah isn't simply going to return to the starting lineup due to his status as a former first-round pick.
"Nobody's getting anything there. Byron Bell did a hell of a job for us last year," Rivera said. "We know what Jeff's capable of. But the problem with Jeff is we haven't really seen him in two years. It's up to Jeff. If Jeff wants to come back and be a huge part of it, it's on him. He's got to do the things we ask him to do. He's got to do them the right way."
Otah has already had a setback in his competition, as his troublesome knee swelled up and required an MRI to determine the issue, but it appears the knee is OK.
Otah needs to beat out former undrafted free agent Byron Bell in order to earn a starting role. Bell started 12 games in place of Otah last year. Furthermore, the Panthers traded for Bruce Campbell to deepen the competition. Being in a contract year, Otah needs to stay healthy and be productive in order to stay with the Panthers.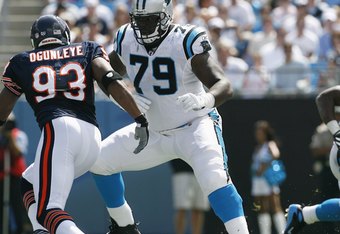 Kevin C. Cox/Getty Images
Running Back Jonathan Stewart
What was once a dynamic duo in the Carolina Panthers backfield, featuring DeAngelo Williams and Jonathan Stewart, just turned into a three-headed monster with the addition of Mike Tolbert. 
Williams was the recipient of a five-year, $43 million contract last offseason, and Tolbert signed a four-year, $8.4 million deal upon his arrival.
Stewart, who has been an extremely productive back since being drafted with the No. 13 overall pick in the 2008 NFL draft, is now the lowest-paid runner on the team, slated to earn just over $1.3 million in 2012 before becoming a free agent at season's end.
In his four seasons, Stewart has rushed for 3,500 yards for an average of 4.8 yards per carry while scoring 26 touchdowns as a complement to Williams. He added another 81 receptions for 702 yards and three scores.
According to NFL.com's Jason La Canafora, as of March 30, the Panthers have just $623,978.00 in remaining cap space.  It will be difficult to retain these players unless they make some serious contract adjustments.