Detroit Lions 2012: Can This Team Contend in NFC's Toughest Division?
June 25, 2012
Jonathan Daniel/Getty Images
There were few bandwagons as full than that of the Detroit Lions last year.
Reasons to pull for the Lions ranged from true team support, player support, fantasy reasons, the intriguing narrative or just because they've been "so bad for so long." Whatever the reason, this team gave fans a lot to feel optimistic about throughout the year, but the way the season ended was bittersweet to say the least.
Fans have been clamoring for a team that can be a serious contender for a lengthy playoff run, and finally they have high caliber players in vital positions, a recipe for enduring success. The challenge the Lions face this year will be to return to the playoffs in a division that boasts two other playoff contenders and a third team that brings game changers like Adrian Peterson and Jared Allen to the table.
Cause for Optimism
The main reason to believe that Detroit can contend in this division is their offense. There are few phrases sweeter to the ears of the Detroit faithful than "Stafford to Calvin", and with a full year of healthy coexistence under their belt and a complete offseason to prepare, there is no reason to doubt they will be able to build on their recent success.
These efforts are also encouraged by the full complement of receivers Stafford has at his disposal across from Megatron with Nate Burleson as a solid option and Titus Young showing flashes of brilliance last year. Along with the receivers, the tight ends for Detroit have come up big, forcing defenses to pick their poison when Stafford drops back. 
The passing attack was the offense for the Detroit Lions. It was exciting to watch, but when it came to situations where they needed to run the ball, they had no answer. With Jahvid Best out for a good portion of the year with injury and Mikel Leshoure sitting for the entire season due to an Achilles injury, their running attack never had a chance to succeed, ranking 29th in the NFL. Many will see Best's injuries as ominous and will question whether Leshoure is healthy or mature enough to contribute to this team, but with how effective the passing attack is, the potential for a sustainable running game to complement what Stafford and company can do is promising.
An example that comes to mind occurred in a home game against Carolina. Kevin Smith's ability to run and catch out of the backfield kept them in a game, which saw Detroit down 24-7 early in the second quarter, and ultimately was a major factor in their victory. It is true that Green Bay has taken steps to improve their defense in the offseason and both Chicago and Minnesota are strong on the defensive side, but if Best and/or Leshoure can make significant contributions to this already high-powered offense, they could be one of the most complete offenses, not only in the division, but in the league.
Cause for Concern
It is no shock that the defense, specifically the secondary, is something that makes the Detroit faithful uneasy. While many consider last year's playoff berth to be a significant step in the right direction and an indication of an improving culture, the lasting memory for many remains Drew Brees being allowed to pick apart the Detroit defense, throwing for 466 yards and 3 touchdowns. Fans watched, helpless, as the Saints offense converted one first down after another, reminded of being recently torn apart by Matt Flynn in the same manner.
Ultimately, the questions facing Detroit come down to defense. In a recent article on NFL.com, Gregg Rosenthal points out that the defensive line will remain strong after Avril's contract is worked out and that that the team has solidified their linebacker position. Rosenthal argues that the Detroit secondary could be what ultimately holds them back, especially without the presence of an upper level, "No. 1" cornerback. With Eric Wright leaving for Tampa and late-season injuries plaguing the corners and safeties, Detroit enters this season with a lot of questions on defense. This is worrisome in a division with Aaron Rodgers, all of his receivers, Jay cutler and now Brandon Marshall.  Detroit will have to hope for players like Chris Houston, Aaron Berry, Louis Delmas and a few rookies to step up and make a difference if they want to slow down the division's dangerous offensive attacks.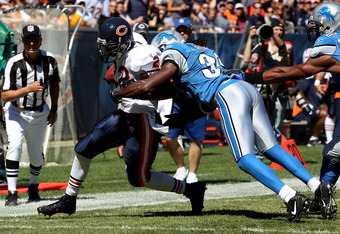 Jonathan Daniel/Getty Images
Conclusion
Including Sunday night games, the Detroit Lions have five prime-time games, and for good reason. The team is exciting to watch, has marquee players and offers an intriguing narrative in terms of a team recently going winless and now striving to make noise in the playoffs.
The Lions are close to being a complete team with the only concerns being health, the secondary and recent off-field discipline issues. The NFC North is one of the toughest divisions in the NFL, but Detroit is a big part of the reason for that truth. If their key players can stay healthy and the secondary can offer some resistance to opposition, they will definitely be able to contend with the other teams in this division.
The Lions' ownership, coaching staff and players have given Detroit fans something they have been longing for since Barry Sanders retired…hope.