Kansas City Chiefs: Was Jon Baldwin Drafted to Replace Dwayne Bowe?
June 12, 2012

Jamie Squire/Getty Images
The tight-lipped approach of NFL front offices makes it nearly impossible to ever know why and when certain moves are made in regards to building rosters. However, sometimes it can be as simple as adding two and two in determining the motive behind particular matters, which is the driving force for the media.
However, so-called experts tend to forecast, and then second guess every decision made by teams before picking everything apart again, only to be left without an answer. So why even bother?
While journalism is widely considered an imperfect science, it is the blind hope that those theories and predictions eventually churn out the bit of truth that keeps us going.
Over the years, the Kansas City Chiefs have been a perfect example of the media guessing game. From Carl Peterson and now Scott Pioli, the front office has never been forthcoming about the future as it relates to the coaching staff, free-agency, the draft, contracts and the inner dealings of the roster.
Pioli has done an incredible job of constructing the Chiefs' roster since taking over as general manager prior to the 2009 season. There are more than a handful of players that are considered anchors and there is now depth behind them to absorb injuries similar to the ones that crippled the team in 2011.
Other than simply tinkering with the depth chart as training camp and the preseason plays out, the only real question still unanswered surrounds Dwayne Bowe and his contract status heading into the 2012 season.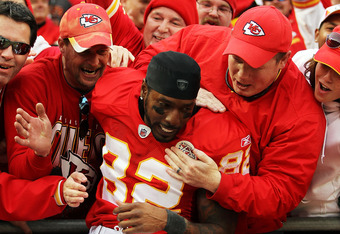 Jamie Squire/Getty Images
As it stands, Bowe has yet to sign the franchise tender offered by the Chiefs. However, there is nothing indicating this is anything but standard procedure, as it is assumed both sides are actively searching for a deal that is in their own best interests.
Head coach Romeo Crennel's recent comments regarding Bowe's absence do raise questions about the wide receiver's short and long-term future in Kansas City; or was it just coach-speak?
The fact that the Chiefs have brought in an unusual number of wide receivers over the past couple of seasons can easily be masked as merely wanting to keep up with the Joneses, as the NFL transforms into its pass-happy evil twin.
Many were puzzled however, when the Chiefs used last year's first-round pick on wide receiver Jon Baldwin; a player thought of to be a clone of Bowe himself.
The team had more pressing needs at the time, so why use such a premium pick on a player that is the mirror image of someone considered to be one of the cornerstones of the offense?
While Baldwin's development has been hampered by last year's lockout and a broken wrist—the result of an altercation with former teammate Thomas Jones—this season will be very telling as to where he stands among other NFL wideouts, and he seems to be impressing everyone so far during OTA's.
Whether or not the Chiefs did draft Baldwin to eventually replace Bowe as the Chiefs No. 1 wide receiver is unknown, but not getting much production out of him last year certainly didn't help either case.
The Chiefs are playing with fire by letting the Bowe situation play out the way it has. He is the proven commodity and they know what to expect from him over the course of an entire season. Baldwin is the question mark here.
However, not being able to properly evaluate Baldwin in 2011 did not do the Chiefs any favors.
Had they been able to better gauge where he is as a player in the NFL, the window to decide on how to handle Bowe would have been much larger. Their comfort level and expected return on a potential trade would have been much clearer. And they would have had more information to determine that Bowe is indeed not as expendable as initially thought to be.
Regardless of how the Chiefs wanted this situation to play out is irrelevant now. The timing is off, to the extent that signing Bowe to an extension is a much more complicated decision now. He has shown enough in this league to demand a high price, but not enough to be irreplaceable.
The Chiefs are forced into playing a guessing game as to whether Baldwin can be their guy, or if Bowe's time in Kansas City has yet to expire.
This sounds eerily familiar to the way the media is duty-bound into the continuous labyrinth of what will happen next, only to find no true answer in the end.
Contact Jeremy at jeremy@popflyboys.com, on Twitter @KCPopFlyBoy and at popflyboys.com.