Stanley Cup Playoffs 2012: Kings Who Redeemed Themselves Most in Finals Triumph
June 12, 2012

Christian Petersen/Getty Images
There is plenty to love about the Stanley Cup Finals, but perhaps the best thing is seeing a player who has been through a lot finally lift the hardware at the end of the series.
There were several players you could say that about on Monday night as the Los Angeles Kings reigned supreme over the New Jersey Devils in six games.
The Kings were the ultimate Cinderella story, as they made the playoffs as a No. 8 seed and proceeded to steamroll through the playoffs with a 16-4 record.
Players like Jonathan Quick, Drew Doughty and Dustin Brown will deservedly receive a ton of praise, but the guys who had to overcome adversity are the ones that fans should be happiest for.
Here are three Kings stars who redeemed themselves most in L.A.'s Stanley Cup victory and figure to have much different reputations moving forward.
Mike Richards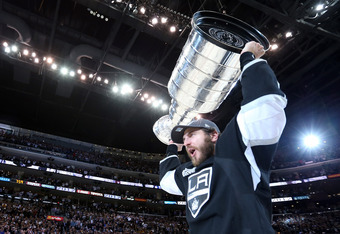 Bruce Bennett/Getty Images
Last season, Mike Richards was the captain of the Philadelphia Flyers and was considered the team's cornerstone for the future. After repeated playoff failures and off-ice controversy, though, the Flyers decided to deal him to the Kings in exchange for forwards Brayden Schenn and Wayne Simmonds.
Many praised the deal from Philly's perspective, as it rid itself of a player who was considered by most to be a locker-room cancer due to his hard-partying ways and lack of accountability.
Perhaps those things were true of Richards in Philadelphia, but he was a much different player in Los Angeles this year. Richards' point production dropped off quite a bit as the Kings struggled to score during the regular season, but he woke up in the playoffs with 15 points in 20 games and wasn't a distraction all year long.
Taking a backseat to Brown in terms of the captaincy was probably good for Richards, as he ultimately proved that he could be a main contributor for a championship team.
Jeff Carter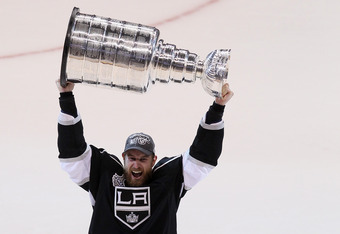 Jeff Gross/Getty Images
As Richards' close friend, it is only fitting that Jeff Carter makes this list as well. Carter was in the exact same boat as Richards in Philadelphia, as the perception was that they were more trouble than they were worth.
Carter was traded to the Columbus Blue Jackets last offseason for forward Jakub Voracek and a draft pick that became forward Sean Couturier. Like the Richards trade, it was thought that the Flyers had gotten a steal.
Things didn't work out at first for Carter, as he was often injured for the floundering Blue Jackets. Columbus decided to cut its losses by dealing Carter to the Kings prior to the deadline for defenseman Jack Johnson.
Carter was a shot in the arm for Los Angeles offensively, as he scored nine points in 16 regular-season games and netted eight playoff goals, including two in the Cup-clinching game. Like Richards, Carter showed the world that he could help a winning cause.
One of the most maligned forwards in the NHL over the past several seasons has been Kings center Jarret Stoll. The skilled pivot was a big part of another No. 8 seed's magical run to the Stanley Cup Finals as he racked up 68 points for the Edmonton Oilers during the 2005-06 regular season.
As things have slowly reverted back to pre-lockout form in the NHL, however, Stoll has never been able to replicate that lofty offensive production.
Stoll hasn't topped 47 points in a season since then, in fact, and this year may have been his worst. Stoll had only 21 points during the regular season, which was his fewest since his rookie year in 2003-04.
Despite the drastic drop off, though, Stoll was very valuable in the playoffs as he won faceoffs, played a strong two-way game and was an all-round steady presence. He may never again break 60 points in a season, but Stoll clearly has worth come playoff time.
Follow @MikeChiari on Twitter