F1 2012: Felipe Massa's Troubles Shield Jenson Button from Closer Scrutiny
June 12, 2012

Clive Mason/Getty Images
Felipe Massa's woeful run of form returned with a vengeance at the Canadian Grand Prix where he turned a solid start into a desperate scramble to secure the final points spot.
In a moment that defies explanation, Massa managed to spin his car whilst running sixth in relatively clear air at Turn 1, narrowly keeping himself off the wall and causing further damage.
It seems that Massa is one of the few people able to hammer nails into their own coffin.
He recovered in 12th place and even though he finished in the points, the opportunity for a consolidation of his partial return to form in Monaco was lost.
It seems a foregone conclusion that Massa will not be at Ferrari next year, although it is looking increasingly likely that they will put up with him for the remainder of this season.
Ferrari team boss Stefano Domenicali would have been disappointed after his thinly veiled warning to Massa after Monaco, where the Daily Mirror reports he publicly stated that he expected Massa to maintain those standards.
Interestingly, the ongoing intense scrutiny of Massa's every performance is shielding McLaren's Jenson Button, whose own run of dreadful form seems to be immune from the same sort of exhaustive examination.
It may come as a surprise to some that Massa has outperformed Button in three of the last four races and while the Brazilian is showing glimmers of improvement, Button seems at a loss to explain what's going wrong.
Worse still, his demeanor suggests that things aren't likely to improve anytime soon.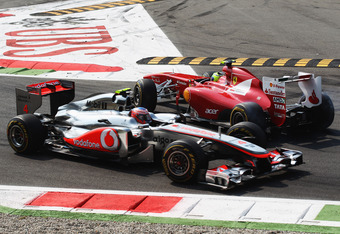 Mark Thompson/Getty Images
MSN Sports quotes Button as saying,
Driving around one and half seconds slower than the leaders, one of whom is my teammate ... I don't know why because I can't push the car any quicker.

It is not the tyres. I cannot be the only person who can't drive the tyres. It's impossible. That felt like the limit of the car. I am leaving here confused and very lost.
It seems like an odd situation for someone who had the perfect start to the season. While bad luck contributed to a poor result in Bahrain and driver error cost Button dearly in China, the rot really set in with McLaren's "upgrades" which were delivered in Spain.
The most noticeable change was a new nose, which is considerably higher (50mm or 2" depending on your preference) than the previous version and this "feeds a much more powerful airflow under the chassis to the floor and diffuser," according to Formula1.com.
Obviously, this development has significantly changed the handling nature of the car and no longer suits Button's style, causing him to burn through tyres at a significantly higher rate that his competitors and, most importantly, his teammate.
It's difficult to understand why they don't return to the old nose, which seemed to suit both Button and Lewis Hamilton equally well.
Conspiracy theorists might suggest that this is what McLaren does to keep Lewis Hamilton on top, but it's much more likely that they're struggling to fully come to terms with the loss of the blown diffuser like almost everyone else on the grid.
That being said, with Hamilton on top of the championship table, there would be an understandable reluctance to risk a major change to help Button out of the doldrums.
Jenson's pain may well continue for some time yet.