Arizona Cardinals 2012 Predictions: How Will QB Kevin Kolb Fare?
June 12, 2012

Rob Carr/Getty Images
It's difficult to predict how Arizona Cardinals quarterback Kevin Kolb will fare in 2012. It could happen one of two ways, so we'll look at both and come up with a final prediction. Keep in mind both predictions assume that Kolb plays all 16 games.
Prediction 1: The Aaron Rodgers Effect
Let's assume the positive happens and Kevin Kolb follows the path of Green Bay quarterback Aaron Rodgers. Rodgers spent three seasons in Green Bay and barely saw any action before the 2008 season. Both are about the same age and had similar NFL experience before becoming full-time starters.
In that year, Rodgers led the Packers to a 6-10 finish. He threw for 4,038 yards with 28 touchdowns and 13 interceptions. In addition, he completed 341 of 536 passes that season for a 63.6 percent completion rate.
That Green Bay team was built a lot like the current Cardinals. They had a 1,200-yard rusher and a pair of 1,000-yard receivers, along with limited production from the tight end position.
Kolb had limited time as a starting quarterback in Philadelphia and was scheduled to be the starter for the Cardinals. Injuries forced him to the sideline for seven starts, so this could be considered his first full year at the helm.
If the Cardinals' offensive line can cut down on the number of sacks it allows, Kolb could be able to put up a similar stat line in 2012.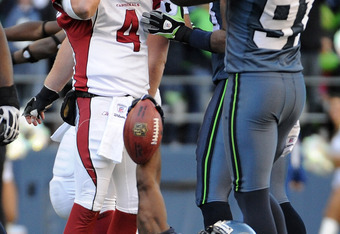 Harry How/Getty Images
Projection: 302 Comp, 518 Att, 3,841 Yds, 24 TD, 17 Int
Prediction 2: Status Quo
As much as the first projection sounds positive and encouraging, let's see what happens if things stay the same as they did last season.
Let's say the Cardinals' offensive line continues to be like a sieve. They've allowed 104 sacks over the last two seasons, and 2012 turns out to be just as bad with more than 45 sacks allowed.
Beanie Wells rushes for about 900 yards. (Keep in mind he had 228 yards in the win at St. Louis last year, so this looks realistic if he didn't run wild on the Rams.) Larry Fitzgerald still puts up his Pro Bowl numbers, and rookie Michael Floyd adds about 850 yards to the total.
The Arizona defense plays like it did in the second half of 2011, and the Cardinals are kept in close games for the season. That might cut down on the number of passing attempts Kolb gets.
Projection: 259 Comp, 450 Att, 3,475 Yds, 16 TD, 14 Int
The Cardinals look like they will be better in 2012 than they were in 2011 so the final projection leans more towards the first scenario than the second.
Final Projection: 281 Comp, 472 Att, 3,622 Yds, 21 TD, 16 Int