Sacramento Kings: Why Kings Would Be Foolish to Trade Tyreke Evans
June 11, 2012
Ezra Shaw/Getty Images
It's been a quite a few seasons since the Sacramento Kings were a relevant contender in the NBA. After not making the playoffs since 2006, the Kings and their fans found someone to believe in as their team was undergoing a roster overhaul. That man was Tyreke Evans, the fourth-overall pick in the 2009 NBA draft out of the University of Memphis.
Evans had a phenomenal rookie campaign, averaging 20.1 points, 5.8 assists, and 5.3 rebounds. This landed him in elite company as one of only four players to average 20-5-5 in his rookie season.
Who else made that list? Just some guys named LeBron James, Oscar Robertson and Michael Jordan. 
With the end of his successful Rookie of the Year campaign, it looked as if the future was as bright as ever in Sacramento and this team might have a superstar in the making. However, Evans quickly fell back down to earth in his sophomore season. Battling injuries, he only played in 57 games in 2010-2011 and saw a dip in his numbers.
Even when he was back and healthy this past season for the Kings, Evans did not appear to be the same kind of player that he was in his rookie year. Was this due to his injuries or is Evans just a one-year wonder?
These are the questions Kings GM Geoff Petrie has been pondering as the team is weighing their options for Evans, who will be a free agent next season. Ailene Voisin of the Sacramento Bee reported that Sacramento would be fielding offers for a possible trade for Tyreke Evans. Additionally, the Sacramento Bee also reported that the Kings do not plan on offering Evans an extension this offseason, which could further indicate an impending trade.
With the wheels beginning to roll on the "Trade Tyreke" bandwagon, there are some factors that should be considered as to why this may not be the best idea.
First, Evans may not have been producing much these past two seasons, but he is still only 22 years old. His rookie year was great but his stats were so high mainly because he was the team's only option on offense. Now with the acquisitions of other formidable players like DeMarcus Cousins and Marcus Thornton, Tyreke has been forced to share the ball a little more and he hasn't quite adjusted. Evans is still a young player who is trying to refine his game, and with a little patience and the right coaching, he should continue to progress.
It was a lockout-shortened season this year, with little time for practice or training camps, and the Kings also underwent a coaching change midseason—not exactly prime conditions.
Also, Evans is being scrutinized for his lack of a true position. This is something I do fully agree with, but I don't think it's something that can't be figured out quickly. Coming into the league, Evans was a point guard for the Kings, but he has shown in recent seasons that he doesn't have the passing ability and decision-making skills that make a successful point guard in the league.
His offensive game involves a lot of driving to the basket and slashing because he hasn't developed much of a perimeter game. Since he's not really a true 1 or 2, the Kings tried to play him at small forward, where he found mixed results last season. In the long term, however, I feel Evans could find the best success of his career if he continues to play at small forward.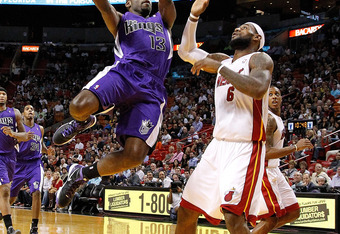 Mike Ehrmann/Getty Images
Developing a shot is something that can be worked on, and Evans has shown improvement in that area during the past two seasons. The ability to drive and create shots is critical to being a successful small forward, and that's something Evans specializes in.
While he has become somewhat predictable in this area as well, Evans could benefit from a full offseason while healthy, which could pay dividends.
As for how well he fits in with the Kings as a whole, Evans could play well in the 3 spot as a point-forward, with other guards Isaiah Thomas and Marcus Thornton being able to play and score effectively off the ball. 
While the Kings are possibly looking to draft a SF later this month, Evans has the physical attributes and skill set to make him a viable option at the 3. Sacramento would be better off bolstering their frontcourt by drafting the best available big man to pair with rising star DeMarcus Cousins.
In terms of paying to keep Tyreke, Sacramento could still sign him to an extension, and it may not cost them a whole lot since Evans doesn't exactly hold all the leverage at the moment. Evans would not be an expensive player to keep around, especially if the Kings could move the large contract of John Salmons to add to their already-decent amount of cap room.
While the Kings are clearly not impressed with how their former first-rounder has been playing, the main thing they have to do before dealing Evans is be patient with his development. Trading him away would only hurt the team since they would bring in more new faces to a team desperate for consistency.
The Kings have been moving around players a lot in the past few years, but Evans, Cousins, Thomas and Thornton are the closest thing to a core group that Sacramento has had in recent memory.
Moving Evans would only prove to be another step back for the Kings, but with the right patience, he could continue to develop in his young NBA career and turn into the kind of player that the Kings thought he would be when they made him a top-five pick.