The Fix Was Not in for the Manny Pacquiao vs. Timothy Bradley Fight
June 11, 2012

Jeff Bottari/Getty Images
Had Manny Pacquiao beaten Timothy Bradley on Saturday night, the story would have been buried beneath such sports headlines as "Celtics Get Scorched by Heat" and "LeBron Shows Why He Is the Best." 
Well, Pacquiao did win. When the final bell rang, the millions of people watching—myself among them—were certain his hand would be raised in victory a minute or two later.
Boy, were we wrong.
On Monday morning, the LeBron James and the Miami Heat were pushed underneath the scorching headlines of "Bradley Upsets Pacquiao" and "Robbery in Vegas." 
Boxing has itself another bad decision. I can understand calling the decision horrendous...a travesty...a ripoff...incredulous. Find your own word for it. Call it what you want, but don't say the decision was "fixed."
I watched the fight in Canastota, New York, where I was attending the weekend festivities of the International Boxing Hall of Fame's yearly inductions. I watched at a backyard party of a local doctor who is a diehard boxing fan. As former NY State Boxing Commissioner and SiriusXM host of Friday Night at the Fights, I was invited, along with my co-host, Gerry Cooney, Antonio Tarver, Mark "Too Sharp" Johnson (a 2012 inductee), journalist Michael Katz (another 2012 inductee), Michael Moore, Buddy McGirt, referee Randy Neumann and Lamon Brewster. We watched the fight on a large screen the doctor had specially set up in his backyard.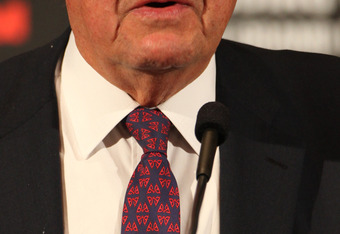 Jeff Bottari/Getty Images
We saw what you saw: a competitive, two-sided, 12-round boxing match, challenger Tim Bradley trying his heart out to win but falling short in at least eight of the rounds and  speedy, aggressive, hard-punching Manny Pacquiao winning round after round, and at least eight or nine of them.  
When the final bell rung,  Brewster, sitting next to me, asked "What's your final call on the fight?" I said, "117-111, Pac-Man." He shook his head in agreement, then said, "Maybe even by more." 
Others who heard him nodded in agreement.  Then came Michael Buffer's reading of the cards.
As soon as I heard the first score of 115-113, I was up off my chair, screaming, "They're gonna screw Pacquiao!" I knew it because, had it been a unanimous decision, Buffer would have said, "Ladies and gentlemen, we have a unanimous decision."
He would have then read the cards. But in starting with a 115-113 for Pacquiao, I just knew the second and even third card would be going to Bradley.
"They're gonna screw Pacquiao!" I shouted again. And again.
I was right. The backyard filled with boxing celebs erupted. I looked at Tarver.  His hands were pressed tight against his face in disbelief.  My co-host, Cooney, screamed "WHAT???" Mark Johnson said, "I don't believe it. I don't believe that just happened."
Then, there was Katz, who has seen plenty of bad decisions in his 73 years and would be getting inducted into the IBHOF in 12 hours. He sat sadly shaking his head, saying, "This decision makes me not want to go into the Boxing Hall of Fame. I am embarrassed.  I am ashamed." He even led his induction speech the next day with very similar words.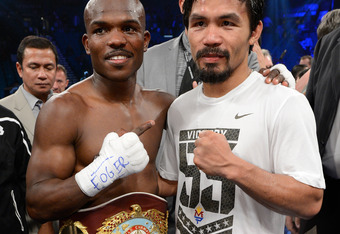 Kevork Djansezian/Getty Images
Yes, their decision was embarrassing to the sport. It was shameful. It was wrong, it was terrible and it was pathetic. Even veteran judge Jerry Roth, who had the fight scored 115-113 for Pacquiao, was off base. But at least he saw the real winner winning.
CJ Ross? Duane Ford? I don't know what to say, other than they screwed up. All morning long I heard them being called dishonest. Dishonest? That's to say they purposefully scored the fight for Bradley because of some underhanded or shady dealings.
There are two other reasons they scored it for Bradley. One is, perhaps they really saw Bradley winning. If they really think Bradley won, that is something I cannot comprehend, especially as a former state regulator. That leaves one other reason they scored it for Bradley: incompetence. They had a bad night and screwed up. 
A judge is asked to give us his/her opinion on the fight they are watching. Close fights happen. This wasn't close. No way. If they really thought Bradley won, they merely gave us their opinion, one which ALL of us disagree with. When that kind of thing happens, the judges should more than have their pencils taken away. They should have their licenses taken away.
If a state investigation does indeed take place, as promoter Bob Arum is calling for, and it is found out that dishonesty—payoffs—were involved, we're talking sports bribery here and a jail sentence for the guilty party/ies.
What do I think? I am sure it was one thing, and one thing only. 
That one thing is not dishonesty. What happened is that the world got to watch two Nevada judges royally screw up.
The fix was NOT in.