Russell Martin: New York Yankees Catcher Takes Home AL Best of the Night Award
June 11, 2012

Al Bello/Getty Images
A month ago, New York Yankees fans were calling for Russell Martin's head, and they were right to do so. Martin couldn't buy a hit in the first few weeks of the 2012 MLB season. His spot in the bottom of the lineup was a black hole.
Yankees fans are no longer calling for Martin's head. Heroes don't deserve that kind of treatment, and Martin is most certainly a hero after what he did on Sunday against the New York Mets.
Martin's day did not get off to a good start, as he struck out swinging in each of his first two at-bats. His Yankee teammates weren't doing much better. When Nick Swisher grounded into a double play in the bottom of the seventh inning, the Yankees were down 3-0 and running out of outs.
The Mets proceeded to demonstrate why it's never a good idea to give the Yankees extra outs.
With two outs in the seventh, Andruw Jones grounded a ball to David Wright, who made a poor throw to first base that Vinny Rottino couldn't handle. Jones reached on the error, and Martin stepped to the plate.
On a 1-1 count, he lined a ball to right field that just barely got over the fence for a classic (see "cheap") Yankee Stadium home run. Just like that, it was a one-run ballgame at 3-2.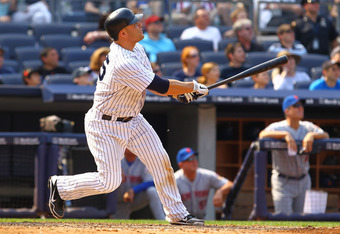 Al Bello/Getty Images
A few twists and turns later, Martin ended up leading off the bottom of the ninth inning with the score tied at 4-4. He turned on an outside breaking ball from Jon Rauch on a 3-2 count and drilled it to left field. The ball cleared the fence easily, giving the Bombers a 5-4 walk-off victory.
And there was much rejoicing.
Martin's teammates approved, and a couple of them took to Twitter to sing their catcher's praises.
Nick Swisher showed his appreciation for Martin's dingers with an excess of exclamation marks:
Holy @russellmartin55!!What a game!! So exciting!! #anotherbombersweep

— Nick Swisher (@NickSwisher) June 10, 2012
David Robertson, who is currently on the disabled list, sounded equally appreciative:
I even got to catch the end of the game and see @russellmartin55 hit go deep for the win! Awesome job bud!

— David Robertson (@DRob30) June 11, 2012
If you happened to miss either of Martin's homers, you can head on over to MLB.com to watch the highlights.
Things are looking up for Martin. He hit rock bottom back on May 17 when he was hitting .167/.322/.292 with a .614 OPS. In 17 games (15 starts) since then, he's hitting .308/.400/.692 with an impressive 1.092 OPS. In those 17 games, he has five home runs and 11 RBI (h/t Baseball-Reference.com).
According to Joel Sherman of the New York Post, Martin's hot streak happens to coincide with a recent mechanical adjustment. He's not opening up as quickly as he was before, meaning he's seeing the ball longer and giving himself a chance to drive it to all fields.
The results speak for themselves.
If Martin can maintain this approach, he should be able to keep giving Joe Girardi solid production at the bottom of the lineup for the rest of the season.
That remains to be seen, of course. It's a long season, and goodness knows catchers have a tendency to break down.
For the time being, Martin can sit back and enjoy the American League "Best of the Night" award I am bestowing on him. I didn't anticipate ever giving him the award given where he was a month ago, but, well, here we are.
Now that the Martin mystery has been solved, all the Yankees have to do is solve the Alex Rodriguez mystery. If they do that, they'll really take off.
I recommend some sort of Cocoon scenario.
If you ever want to nominate somebody for American League "Best of the Night" honors, hit me up on Twitter.