Dr. Benjamin Irresponsible in His Accusations of Chael Sonnen and Frank Mir
June 11, 2012

Last week, Stephanie Daniels of Bloody Elbow posted an interview with Dr. Benjamin.
Dr. Benjamin is a spinal surgeon and a contributor to MMAJunkie.com, and he uses his medical expertise to speak about fighter health and injuries on the website. 
In the interview, he gave his opinion about Chael Sonnen and Frank Mir's usage of Testosterone Replacement Therapy (TRT). Following his UFC 146 bout against Junior Dos Santos, it came out that Mir had received a Therapeutic Use Exemption (TUE) from the Nevada State Athletic Commission for TRT. 
He concluded that the only reason a 33-year-old fighter (Mir) would need testosterone injections was he abused steroids in the past.
In his own words: "Let's be honest here. How many people who never wrecked their bodies with past steroid use, naturally need TRT at 33? Less than one or two percent."
Now, for a medical professional to be accusatory of anyone without having treated them is considered highly unethical by the American Medical Association. 
However, the good doctor goes even further in discussing Chael Sonnen.
Sonnen was recently granted a TUE by the NSAC for his bout on July 7 against Anderson Silva at UFC 147. Sonnen's reason for needing TRT is a medical one, as he has been diagnosed with hypogonadism.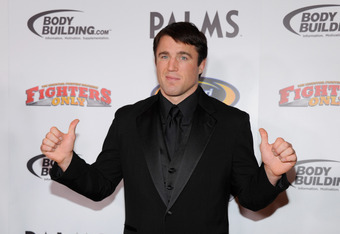 Ethan Miller/Getty Images
Essentially, Sonnen's body is unable to produced testosterone naturally, and he requires an injection to normalize his body. Chael had previously applied for a TUE in both Chicago and Houston and received approval by both the Illinois and Texas athletic commissions. 
Dr. Benjamin opined that Chael would never have been able to reach the levels of success he has, as a wrestler in college and as an MMA fighter, with such a condition. Again, in his own words:
Was Chael Sonnen a big-time collegiate wrestler? Yes, he was. I'm going to opine and say to you, there's no way in the world you get to the level of collegiate wrestling that Chael Sonnen was at with hypogonadism. Let me explain to you why. Hypogonadism means that the testes did not produce enough testosterone for one to normally mature. He wasn't on TRT as a teenager. He became this big, muscled-up monster and NCAA wrestler with hypogonadism? Hell no.
He goes even further when he flat out accuses Sonnen of abusing steroids in the past. 
"If he has hypogonadism, it's from one thing, and one thing only, because he treated himself with steroids in the past, and wrecked his testes," he said. "That's it." 
This isn't the first time Dr. Benjamin has been inflammatory regarding MMA fighters either. His irresponsible stories have actually cost certain fighters a considerable amount of money. 
Former UFC welterweight champion and MMA legend Pat Miletich responded to Bleacher Report writer Jonathan Snowden on Twitter regarding Dr. Benjamin. Dr. Benjamin wrote an article about Pat's neck injuries that had actual consequences. 
@mmaencyclopedia Funny @DrJCBenjamin wrote I shouldn't fight after neck surgery. Thr was no surgery n cost me 4k 4 extra tests 2 fight.

— Pat Miletich (@patmiletich) June 11, 2012 
Dr. Benjamin is walking a fine line between professional and sensational. While I appreciate that he gives his medical opinion about certain aspects of the sport, accusing fighters of steroid abuse isn't just reckless, it's outright slander. 
I hope that he starts to be more responsible with his words and speaks based on facts rather than hearsay. His reputation is dependent on it.