NBA Free Agency 2012: Why the L.A. Clippers Need to Re-Sign Reggie Evans
June 11, 2012

Stephen Dunn/Getty Images
Despite playing fewer than 14 minutes per game in 2012, Reggie Evans was a valuable contributor off the Clippers bench. The Clips need only look back to their first-round playoff series against the Memphis Grizzlies to recall just how much he helped the team.
Evans played big crunch time minutes in the postseason for L.A. He displaced Clippers starting center DeAndre Jordan in the lineup, leaving the team's second highest paid player on the bench while Evans helped win close games.
What Evans brings to the table—what the Clippers desperately need—is a hard-nosed physical inside presence who is willing to selflessly do all the dirty work.
Evans is the league's ultimate one-trick pony. Rebounding is his craft, and Evans is a master. He finished third in the NBA in total rebound rate last season behind only Dwight Howard and Marcus Camby, two players who have rebounding titles and Defensive Player of the Year trophies under their belts.
Evans really made his mark in the playoffs. He was part of a rejuvenated Clippers bench that energized the team and sparked huge rallies. 
Normally, bench players see less action during the postseason, but Evans was trusted with 18 minutes of court time a game, over four minutes more than he saw in the regular season. 
And those extra minutes were earned too. Evans increased his production across the board, leading all playoff performers in total rebound rate. He grabbed a ridiculous 37.1 percent of all defensive rebounds available to him. That number was significantly higher than even the league leader during the regular season.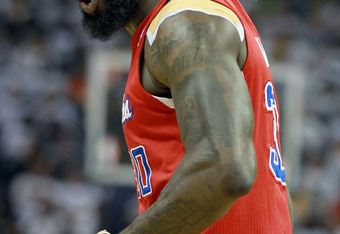 Andy Lyons/Getty Images
While Evans is expected to gobble up more than his fair share of boards, his biggest contribution actually came from his defensive leadership, particularly in the Grizzlies series.
Whenever Evans was in the game, it seemed like the Clippers tried harder on defense. They flew around the court, making the proper rotations. They were containing the pick-and-roll, closing out on shooters and not allowing any second-chance opportunities. 
Evans played great individual defense too. He relished the opportunity to check Zach Randolph—one of the three best low post scorers in the game—one-on-one. And although he is a little undersized for a power forward, Evans still forced Randolph into brick after brick during crunch time.
With Reggie Evans, you know you're not going to get anything on the offensive end of the floor, but his otherworldly rebounding ability combined with his toughness and intensity make him a useful commodity off the bench.
The Clippers would do well to keep Evans around.