Abdulla Koni: The Qatari Player Who May Have Decided Euro 2012
June 11, 2012

As sixteen European nations do battle this month to decide the class of European football, each match is preceded by a raft of conjectures on who the key player is for each side.  As strange as it may seem, though, the player who may have swung the outcome of this tournament has not and will not play in any match in Poland and Ukraine.
Abdulla Koni is a 32-year-old Senegalese-born Qatari defender for his club, Al Sadd.  In an international career that spanned 15 years (and ended just this year), he appeared in 38 matches for Qatar and scored three goals.  It was in 2011, though, that Koni's career reached its peak, as he captained his Al Sadd side to the AFC Champions League title; he even scored the winner in his side's 1-0 Round of 16 triumph over Saudi Arabia's Al Shabab.
Because of this win, Koni led his side into the FIFA Club World Cup in December of last year.  In the quarterfinals, Koni scored the winning goal in Al Sadd's 2-1 victory over Tunisia's Esperance to set up a semifinal battle with mighty FC Barcelona.  It was there that Koni found a way to become one of the key players in Euro 2012.
With Barcelona leading 1-0 in the 36th minute, Barcelona forward David Villa timed a run well and allowed for a ball to be played over the top into the path of his run.  Villa and Koni raced toward the Qatari net, Villa with the beat on the ball.  As the ball hit the ground, the Spaniard failed to corral the ball, allowing the Qatari the time to catch up and challenge for the ball on its next bounce.  
With his left leg, Villa took a swipe at the ball as it was coming down, while Koni used his shoulder to challenge.  After striking the ball, Villa was thrown off-kilter, landing awkwardly on his left leg and breaking it.
From there, David Villa missed the rest of the club season with Barcelona and will miss the entirety of Euro 2012.  But how will that affect Spain?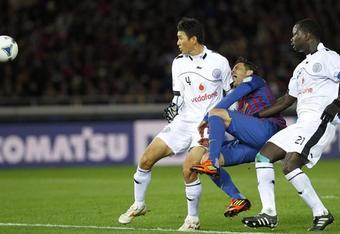 If you watched yesterday's match between Spain and Italy, you will have an idea of how much the loss hurts Spain.  Villa was the out-and-out striker who could summon a wonder-strike at any moment in the match; without that threat, Spain's dazzling passing and beautiful movement can be countered with hard and committed defense like the Italians implemented.
For Barcelona, the loss of David Villa may have been the most important factor that allowed Chelsea's "park the bus" style to win their Champions League tie; because Spain plays nearly the same way, this might just be a problem for Spain in a knockout match.
Spain is one of the most talented and greatest international sides in the history of football.  A victory at Euro 2012 gives them an unprecedented three straight major tournament victories.  If they don't get there, though, chances are that it will be an effect of their lack of a competent striker.
If that happens, Abdulla Koni may be the most influential player of the tournament.
And that's without stepping on the pitch.
For more news on Spain, Euro 2012, and more, follow me on Twitter: @Fw1812