Chad Ochocinco Is Not a Fit for Miami Dolphins Offense
June 11, 2012

Elsa/Getty Images
With the Miami Dolphins getting set to appear on HBO's Hard Knocks, many are wondering what the interest level will be for a team that lacks star power and storylines.
Enter Chad Ochocinco, who Dolphins head coach Joe Philbin confirmed worked out for the team "recently." The mercurial wide receiver has not only been a participant on Knocks in the past, but he also hosted a pair of his own TV shows: a dating show, The Ultimate Catch, and The T-Ocho Show.
Both bombed pretty horribly, with a 0.1 Nielsen rating for The T-Ocho Show, according to NESN.com, and off-the-radar numbers for The Ultimate Catch.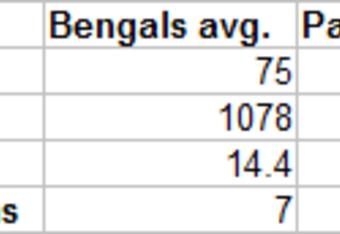 A lot of hype, but the numbers don't match up. That sounds a lot like Ochocinco's 2011 season—a lost year in which the veteran pass-catcher posted career lows across the board, despite having the perfect surroundings and one of the game's best quarterbacks and head coaches by his side.
There's no problem with working him out; most teams will keep a running docket of players at every position during the season in the event of an injury or multiple injuries. Philbin clarified in his press conference on Monday (via MiamiDolphins.com):
Jeff and his staff do a great job of identifying potential players that may be able to help us at some point in time. We're just doing our due diligence, investigating things. ...It's not an indictment of any of the players we have, we like the players we're working with at this point in time. I don't think it's any different from any position.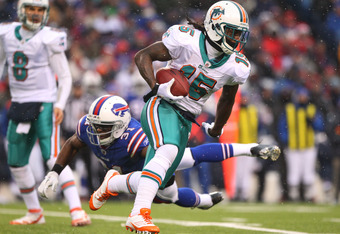 Tom Szczerbowski/Getty Images
The Dolphins' depth chart at wide receiver, while not lacking for potential, certainly lacks on here-and-now surefire talent.
Good luck finding it with Ochocinco, though.
The drop-off in production between 2011 and his career leading up to that point was astonishing. He looked downright lost in New England's offense.
But he does have one thing going for him in Miami that he didn't have in New England: familiarity.
The Cincinnati Bengals ran a number system, and the heavy language in the Patriots playbook was admittedly a stumbling block for Ochocinco from the start. In Miami's West Coast offense, though, the routes are called by number names. At least he's familiar with it, as opposed to being a fish out of water in New England's offense.
But that doesn't mean he's a fit. The West Coast offense requires timing and precision routes—two notable holes in his game from last season, and two problems that were largely masked 
All we've heard all offseason long, though, is that the Dolphins don't need a No. 1 wide receiver. Head coach Joe Philbin said it at the coach's meetings, and quarterback Matt Moore said it at Dolphins minicamp.
Why, then, are they flipping the script and pursuing a big-name receiver? Sure, Ochocinco isn't the No. 1 option he used to be, but it could bring a lot of unneeded attention if he's not getting the ball as much as he might think he should be.
The situation isn't ripe for keeping a vocal receiver like Ochocinco in line like it was in New England. There are some benefits, but there are too many hang-ups.
Erik Frenz is the AFC East lead blogger for Bleacher Report. Be sure to follow Erik on Twitter and "like" the AFC East blog on Facebook to keep up with all the updates.