Miami Heat vs. Oklahoma City Thunder Is Black and White in the Finals
June 11, 2012

Ronald Martinez/Getty Images
Good vs. Evil. Superman vs. Lex Luther. Batman and Robin vs...well a whole cast of bad guys. The NBA's version starts Tuesday night. The Oklahoma City Thunder in white and the Miami Heat in black. Let's do it.
Those who hate the Heat will point to the postgame celebration after Saturday's series clinching win over the Boston Celtics as the most recent reason. Dancing because you outlasted the aging Celtics in a tough seven-game series just to get to the Finals? Please.
But how did this venom all start? Why are the Heat so hated by some? That's easy.
The celebration put on by the Heat when LeBron James and Chris Bosh signed started the venom. The celebration that was staged before practice number one. The very same celebration that saw LeBron  nod in agreement when the announcer said they were here to win multiple championships. That's when LeBron proclaimed the now famous, " not one, not two, not three, not four, not five, not six, not seven..." as to how many Larry O'Brien's Miami would win.
I will admit it rubbed me the wrong way when the announcer urged the crowd to welcome "their Miami Heat!" There were three players on the stage. The last time I checked you had to have at least five on the court.
James, Wade and Bosh were referred to as the three kings and received keys to the city.
But what has stuck in my craw the most about that event, was Dwyane Wade calling the three of them "arguably the best trio to ever play the game of basketball."
I don't care that he used the word arguably. It's a ridiculous statement. Let's go back in time to examine that claim.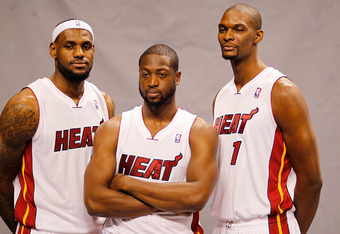 Mike Ehrmann/Getty Images
Los Angeles Lakers: Wilt Chamberlain, Jerry West and Elgin Baylor.
Wilt is the only player in NBA history to average both 40 and 50 points per game in a season. He won seven scoring and 11 rebounding titles. He won two championships and four MVPs. He was Rookie of the Year and a Finals MVP. He was a 13 time All-Star.
West is the NBA logo. That should be enough. But for those of you who don't know, he was a 14 time All-Star who won a championship. He holds the NBA record for the highest scoring average in a playoff series with 46.3 points per game during the 1965 Western Division Finals against Baltimore. He was the only player from a losing team to win an NBA Finals MVP.
Baylor was the 1959 Rookie of the Year and an 11 time All-Star. A knee injury forced his retirement nine games into the 1971-72 season that saw the Lakers win their first championship.
Remember that Wilt, West and Baylor had to compete against Bill Russell's Boston Celtics that won 11 championships in 13 years.
Los Angeles Lakers: Kareem Abdul Jabbar, James Worthy and Magic Johnson.
Kareem is the all-time leading scorer in NBA history. He won six championships and six MVPs. He was an All-Star a record 19 times and created the only un-blockable shot in NBA history, the sky hook.
Worthy was a seven time All-Star with three championships. He was voted one of the 50 greatest players in the history of the NBA in 1996.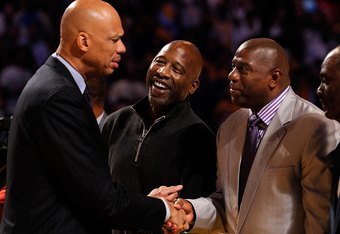 Kevork Djansezian/Getty Images
Magic was Magic, a five time champion who won three MVPs. He was an All-Star 12 times and is the NBA's all time assist leader at 11.2 per game.
Boston Celtics: Larry Bird, Kevin McHale and Robert Parrish.
Bird was half of the duo, along with Magic, that saved the NBA. Their Finals were on tape delay when he came into the league. He was a 12 time All-Star in his 13 seasons. He won three MVPs and three championships.
McHale was a seven time All-Star with three championships. Even though he came off the bench much of his career, he was named one of the Top 50 players also.
Parrish won four championships and made 9 All-Star teams while also making that Top 50 team.
Chicago Bulls: Michael Jordan, Scottie Pippen and Dennis Rodman.
Michael won six championships and six MVPs. A 14 time All-Star with ten scoring titles—oh for pete's sake. It's Michael Jordan.
Pippen won six championships and was named to the All-Defensive first team eight straight times. He also was on that Top 50 team.
Rodman was All-Defensive first team seven times and a two time Defensive Player of the Year. He led the league in rebounding seven straight years and won five championships.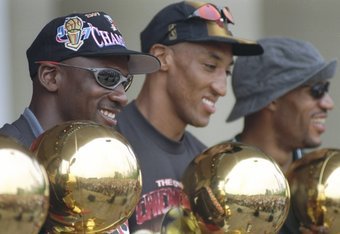 Matthew Stockman/Getty Images
I'm not claiming this list to be the ultimate list of trios. These just came to my mind. Every one of these players is in the Hall of Fame. I don't question that James and Wade will be, but Bosh?
How does the Heat trio stack up? Obviously they have more years to go, but Wade made the statement last year.
LeBron was rookie of the year and is an eight time All-Star. His three MVPs in the last four years is outstanding. However, he is still without a championship.
Wade is an eight time All-Star with one championship.
Bosh is a five time All-Star with no championships.
They don't stack up.
That's why the venom; the flash, glitz and preening before the first practice, never mind the first championship.
And now here comes the Thunder from little, collegiate-like, laid back Oklahoma City.  The Thunder who are led by three-time scoring champ Kevin Durant.
Good vs. Evil. And for the first time since the 1997 Finals we have the league MVP against the league scoring champion. In 1997 MVP Jordan beat scoring champ Karl Malone's Utah Jazz. Will MVP James beat scoring champ Durant?
I'm not thinking so. That announcement at the 2010 Heat celebration may have been prophetic. The one asking the crowd to go nuts for "their Miami Heat!"
Remember that only Bosh, Wade and James were on the stage.
Prophetic.
Follow me on Twitter@sprtsramblngman