Pittsburgh Steelers: Defense Will Generate More Turnovers in 2012
June 10, 2012

Jared Wickerham/Getty Images
When it comes to a performance, you catch an audience's attention with how you start, and they remember how you finish.
For the Pittsburgh Steelers defense, getting shredded by Tim Tebow was not a way to be remembered.
As the team heads into the 2012 season, there is some concern as to how the defense will react to last season's disappointing finish. Ike Taylor, the team's best cornerback was burned by DeMaryius Thomas, and while there were some circumstances that helped lead to this, such as Ryan Clark not being able to play in Denver, it is something that shouldn't have happened.
But that was then, and this is now. Dick LeBeau and the Steelers defense have moved on and are looking to improve on an otherwise very good performance last season in which the defense led the NFL in pass defense, total defense and, most importantly, scoring defense.
This year's defense will have a different look with the release of linebacker James Farrior, defensive end Aaron Smith and cornerback Bryant McFadden. Nose tackle Chris Hoke retired, and cornerback William Gay signed with the Arizona Cardinals.
Despite the loss of five contributors, the Steelers actually did not lose much in terms of production.
They lost two outstanding leaders in Farrior and Smith, but neither were playing at the level that defined their careers. Farrior was only a part-time player, sharing time with Larry Foote, and he clearly had lost a couple of steps. Smith was injured and missed significant time yet again.
Hoke also missed most of the season with an injury and was actually surpassed by Steve McLendon on the depth chart, meaning that Gay was the only starter that was lost.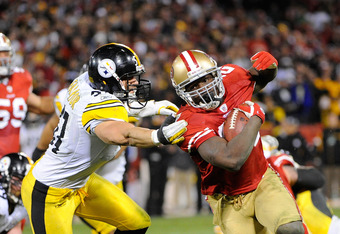 Thearon W. Henderson/Getty Images
The team will also likely start the season without injured nose tackle Casey Hampton, but that may not be a problem.
The Steelers are still a veteran bunch and have an infusion of young talent who should get time in various situations with the defense. This likely means that the Steelers will once again finish as one of the top-ranked defenses in the league, but they do have one area that they must improve on if they want to have an impact defense—turnovers.
Pittsburgh forced only 15 turnovers (11 interceptions and four fumble recoveries) and that is something that clearly set them back. To put that in perspective, 19 teams had at least 15 interceptions and two teams had 15 fumble recoveries.
Turnovers are incredibly important in the NFL and are quite often the determining factor of a game. A goal of every game is to win the turnover battle, and with only 15, it is difficult to do that.
One of the reasons the Steelers did not force many turnovers were due to James Harrison's back injury. He did not have his usual dominant season. In his previous four seasons, Harrison averaged more than six forced fumbles per season. Last year he had two.
LaMarr Woodley, who battled a hamstring injury for much of the season, did not have any forced fumbles, and Troy Polamalu only had two interceptions after having seven the year before.
In fact, in 2010, the Steelers as a whole were better at creating turnovers, as they had 21 interceptions and 14 fumble recoveries, which both ranked in the top five in the league. The significant difference may seem baffling, but LeBeau recognized that it is a part of the game.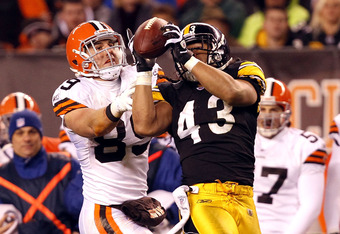 Matt Sullivan/Getty Images
"That's something we have to get better at,'' LeBeau said (via the Pittsburgh Post-Gazette). "Just preach it and practice it. Turnovers are funny, one year you're up there, the next year you're not. But I see no reason why we were as low as we were last year. That's not good. We have to improve that number."
A big reason for the Steelers defense having so many turnovers in 2010 was that they led the league in sacks with 48. Compare that to this past season, when they were unable to pressure the quarterback and finished with only 35 sacks.
Things should change for the better this season as long as Woodley and Harrison are healthy. That alone will help the team generate pressure and, in turn, increase the number of turnovers. Last season, Lawrence Timmons and Jason Worilds were completely ineffective at outside linebacker.
But even if Woodley or Harrison have to come out of the game, another year of experience should benefit Worilds, and Chris Carter has a chance to make an impact after suffering through injuries his rookie season.
Up front, the Steelers should be better as well.
McLendon is bigger and stronger this year and will offer more than just the run-stuffing presence that we are accustomed to seeing from Hampton. Alameda Ta'amu should get reps as well, and he is a massive space-eater who can free up the linebackers behind him.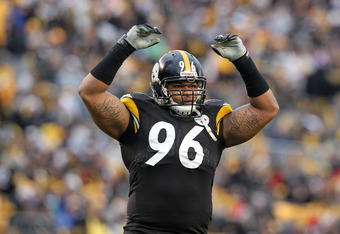 Karl Walter/Getty Images
Next to McLendon will be Brett Keisel, who has been excellent, and a motivated Ziggy Hood, who has significantly bulked up. This is big, as Hood was beaten off the ball last season and was easily blocked.
Cameron Heyward, who flashed a lot of potential as a rookie, will see an increased amount of time as well.
As the Steelers defend against the pass more, rookie Sean Spence will see playing time this year, according to Keith Butler. While he may not get significant action, his speed and football IQ will be a big help when defending against the speedy running backs and tight ends, and his presence will not be the liability that the combination of Farrior and Foote were last year.
Pittsburgh will also be getting more athletic at cornerback with the trio of Keenan Lewis, Cortez Allen and Curtis Brown competing for the left cornerback job. William Gay was a solid starter last year, but these young cornerbacks have a much better upside and ability to make plays, particularly the two second-year cornerbacks.
When it comes down to it, though, regardless of who is on the field, the Steelers must get to the quarterback if they are to generate more turnovers this season.
Based on their health, personnel and determination to improve this area of the defense, the Steelers will improve upon their 2011 performance and be one of the most dangerous defenses in the league this season.
Follow me on Twitter @ChrisG_FC