Boston Celtics: Why Trading Paul Pierce Is Something C's Must Consider
June 10, 2012

Jim Rogash/Getty Images
Paul Pierce is the superstar and leader of the Boston Celtics, but it may be time for him to part ways with the team.
After Saturday night's loss to the Miami Heat, the Celtics find themselves watching the NBA Finals like the rest of us—from home. The team is most likely breaking up, ending the Big Three era. While Paul Pierce is still under contract for next season, the C's must consider trading him.
The only members of the Celtics team still under contract for next year are Pierce, Rajon Rondo, Avery Bradley and JaJaun Johnson, plus Brandon Bass (player option) and Greg Stiemsma (restricted). Head coach Doc Rivers will also be returning to Beantown.
Pierce was nearly dealt at the 2012 trade deadline. According to reports, the Celtics were working on a deal to send Pierce to the Nets for Mehmet Okur's expiring contract and a lottery pick. The deal would have given the Celtics the top pick in a loaded draft, as well as relief from the remaining years in Pierce's contract. However, general manager Danny Ainge decided to keep the team together for one final run at another championship, and rightfully so.
Now that the Celtics' season is over, the Pierce trade talks must start again. If Kevin Garnett and Ray Allen leave, it would only make sense for Ainge to completely rebuild around Rondo, which would send Pierce elsewhere.
After his performance in the postseason, it's clear that Pierce still has a few more years left in him. The Celtics could definitely acquire a high-quality player for the man known as The Truth.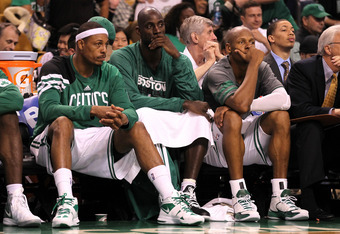 Jim Rogash/Getty Images
In fact, the trade rumors are already starting to heat up. One source is reporting that the Lakers are interested in trading Pau Gasol for Pierce. The Celtics would clearly benefit from that trade, since the team is lacking a dominant big man and Gasol fits the mold. In addition, the players' salaries match so there wouldn't have to be any other players involved. 
If the Celtics are serious about building around Rondo and looking towards the future, Pierce simply has to go. Boston needs to focus on building a young team, not holding onto aging players. The team would benefit more from draft picks than retaining Pierce for two more years.
Being a mediocre team in the NBA is never a good idea, especially in the Eastern Conference. When you're competing against the Miami Heat and Chicago Bulls, you always need to bring your "A" game. Even though Pierce is still clutch, he just isn't the player he used to be. 
While it would be heartwarming to see Pierce retire as a Boston Celtic, trading him would be best for the team.